Take the pain out of work with Flexliner straddle seats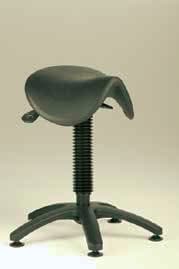 Straddle seats are designed to reduce back, shoulder and leg fatigue when seated.
Available from seating specialists Flexliner, these seats provide comfort and ease of movement when working at a bench or counter.
When properly setup, a straddle seat achieves this by tilting the pelvis forward, making the curves in the spine conform to the body's correct anatomical position – an "S" shaped spine.
This helps to prevent a forward hunching "C" shaped spine that can happen when seated on a traditional chair.
This upright posture straightens the upper back and reduces muscle tension in the neck, shoulder girdle and upper back.
It's important to know that when using a straddle seat at a desk, the desktop must be raised.
Straddle users sit 20–30cm higher than on a standard desk chair.
This creates an angle of 125o-140o between the thigh and torso (versus a 90o hip angle when using a traditional chair).
The straddle seat set-up activates the postural muscles – including the abdominals, back extensors, buttocks and large muscles in the legs, as opposed to a traditional chair where the postural muscles are dormant.
Straddle seats are made of either black moulded PU (polyurethane) foam or cold cure urethane foam for upholstering in fabric, leather of vinyl. Flexliner has standard upholstered colours in various types of fabric or vinyl or can custom upholster to suit your requirements.
All Flexliner straddle seats have gas spring height adjustment, swivel, seat tilt & tilt lock and backrests can be fitted.
They are also height adjustable, with variable and lockable angle of tilt.
Flexliner Pty Ltd
Ph: 08 9371 3200
For more information, please visit our website below.