Published 02-06-2020
| Article appears in June 2020 Issue
TAKE CONTROL WITH OMRON COMPACT INVERTER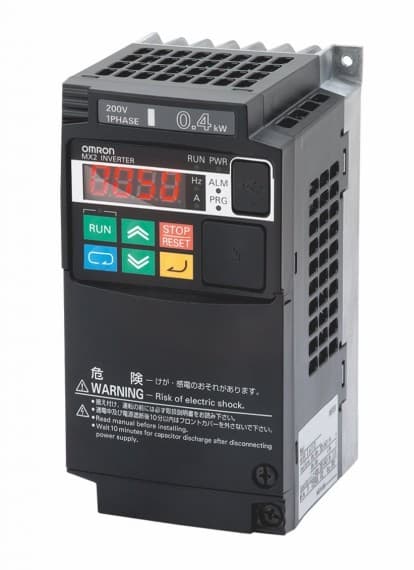 New from global automation leader Omron, the 3G3MX2 series multi-function compact inverter is the ideal way to achieve optimum harmonised motor and machine control.
With support for standard induction and permanent magnet motors, a fast EtherCAT fieldbus system, PID control and built-in safety features, the innovative 3G3MX2 is ideal for low to medium torque applications.
It delivers 200 per cent starting torque near standstill (0.5 Hz), and can operate in sensorless vector control mode, which allows the 3G3MX2-V! to be used in applications previously suited to closed-loop AC vector drives.
Embedded within the 3G3MX2-V1 is category 3 safety that adheres to ISO 13849-1, with dual safety inputs and an external device monitoring (EDM) output. No external contactors on the motor side are required, which results in simpler wiring for the user.
All drives across the 3G3MX2 range have dual power ratings: heavy load (where constant torque is required) and light load for fans and pumps, where the torque can be reduced once the load is in motion.
A drive and position controller in one, the 3G3MX2 is ideal for modular machines where moderate positional accuracy is required. Speed synchronisation is also possible without any additional programming.
The 3G3MX2 can solve simple positioning tasks without an external controller thanks to specially developed application functionality. Users can select up to eight positions, plus home.
Users can also create smart solutions using the 3G3MX2's standard PLC functionality. With the intuitive flow chart programming tool, users can create programs with up to 1000 lines of code, with up to five tasks running in parallel.
Standard libraries for pump sequencing and woder control are available at no cost from Omron.
Take full control of your machine dynamics and performance with the 3G3MX2 series, available now from Omron.
Omron
1300 766 766
www.omron.com.au