TAFE WELDING STUDENTS READY FOR NAVAL SHIPBUILDING JOBS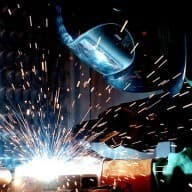 TAFE Queensland has received course endorsement from the Naval Shipbuilding College for its Certificate III in Engineering - Fabrication Trade, so graduates will be acknowledged as "job ready" by shipbuilding and supply chain industries across the country.
Naval Shipbuilding College Training Quality and Assurance Manager Paul Whetstone attended TAFE Queensland's Cairns campus for the announcement.
"This is great news for North Queensland students who will undertake training that directly aligns with the future needs of Australia's growing naval shipbuilding industry," he said.
"A critical component of the enhanced welding course will be to skill students how to weld in a restricted position, an essential requirement for potential employers.
"We need skilled workers to fill the projected 15,000 jobs that will be needed to build and sustain our future fleet, including the technologically advanced Attack class submarines and Hunter class frigates."
Many of these opportunities exist in Queensland's thriving small to medium enterprises, which form a critical component of the national naval shipbuilding supply chain.
TAFE Queensland chief executive Mary Campbell said this endorsement is proof of TAFE Queensland's ability to deliver some of the very best of Australia's industrial training.
"This endorsement represents a quality assurance guarantee to naval shipbuilders that the welding qualifications we deliver meet shipbuilding industry occupational standards and requirements," she said.
"Our welding graduates will have improved employment opportunities in the naval shipbuilding program.
"This is great news for our local economy, great news for people wanting jobs of the future and it's a very exciting time for Queensland."
The Naval Shipbuilding College is building a national workforce to implement the Australian Government's $90 billion continuous shipbuilding program.
Naval Shipbuilding College
08 8448 2509
www.navalshipbuildingcollege.com.au