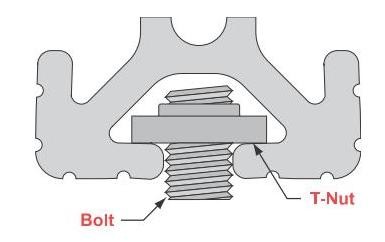 Introduction to T-Slot Framing
80/20's aluminum T-slotted profiles are the basic building blocks of "The Industrial Erector Set®". These T-slotted profiles are broken into seven families.
10 Series - 1.00" increments and a .50" Centerline.
15 Series - 1.50" increments and a .75" Centerline.
20 Series - 20mm increments and a 10mm Centerline.
25 Series - 25mm increments and a 12.5mm Centerline.
30 Series - 30mm increments and a 15mm Centerline.
40 Series - 40mm increments and a 20mm Centerline.
45 Series - 45mm increments and a 22.5mm Centerline.
T-Slot Concept
80/20's modularity is based upon the T-slot concept ofour profiles. The "T" shaped slots present on all of our profiles allow for infinite positioning along the axis.  While there are other types of T-slotted profiles in the industry, one modification to the 80/20 line is a slight adjustment to the " T" which creates the 2° Drop-Lock Feature.
T-slotted profiles for both FRACTIONAL and METRIC measurment series.