SYNCHRONOUS LIFTING SYSTEM TAKES (GOOD) CARE OF SUPER YACHT
15-05-2017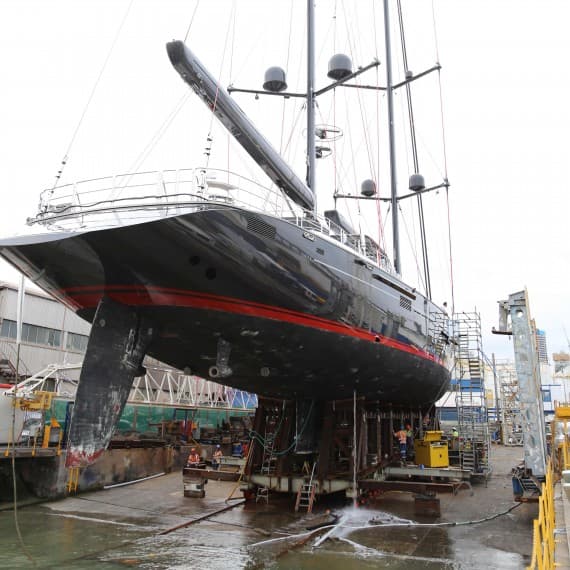 An Enerpac EVO 12 synchronous lifting system was used recently in Auckland to hoist a 600-tonne racing super yacht for repairs and maintenance. The system was used by New Zealand's Rich Rigging Project Services on behalf of Titan Marine to digitally control and monitor 14 separate 100-tonne Enerpac cylinders that lifted the craft by 1.6 metres. The costs of failure would have been high: the super yacht is valued in excess of US $50 million.
The Enerpac RACL high-pressure (700bar) aluminium cylinders, operating as single units and pairs, were synchronised by one person using touch-screen PLC control from a central control point to lift the valuable craft. All cylinders were extended in synchronised steps (to +/-1mm tolerances) while maintaining the precious load in perfect balance.
"This is the same technology that is used in critical lifts where lives depend on its accuracy – such as precisely assembling oil production platforms or disassembling hefty and irregularly shaped mining plant," said Enerpac New Zealand Manager Neville Stuart.
"Titan Marine and Rich Rigging set out to achieve the most precise and safest lift possible, while at the same time achieving the task in excellent time (two days) and without risk to the very beautiful alloy yacht. While the sleek shape of the yacht, with its towering masts, is visually very impressive, it did pose interesting engineering issues in ensuring a perfectly balanced lift," he said.
The EVO hydraulic power unit is designed as a single unit for four, eight or 12 lifting points and can be extended into a network with up to four units. When using multiple hydraulic power units, the networked system is controlled by a separate and portable master control box.
The standard EVO System allows customers to use their existing standard Enerpac cylinders. For more complex and demanding applications the special EVO-System (EVO-W) offers additional control features for weighing systems with or without load cells.
Enerpac
02 8717 7200
www.enerpac.com.au