SYNC GRIP PULLERS MAKE MAINTENANCE SAFER
18-10-2017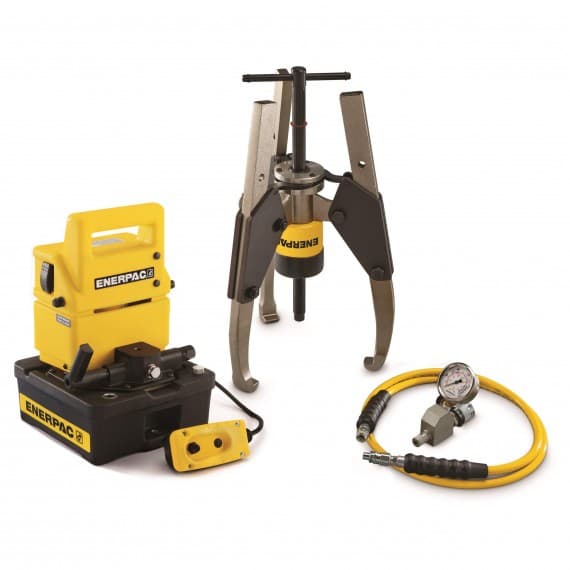 With the summer shutdown maintenance season approaching, one task that will be on many engineering managers' minds is the stripping and refurbishment of shaft-mounted machinery, including tracked and wheeled vehicles, rail and materials handling plant and electric motors and gearboxes.
Enerpac reckons that its latest range of Sync Grip Pullers are the perfect productivity aid for this task, helping maintenance staff to safely remove gears, pulleys and other shaft-mounted components from both static and mobile plant.
SG-Series Sync Grip Pullers feature synchronised movement of their locking jaws for simultaneous engagement and optimised safety. A safety and workplace benefit is that the pullers will even grip on surfaces where normal pullers would slip off – for example, on tapered bearings.
Both mechanical and hydraulic versions are available, with up to 45 tonnes capacity, all aimed at speeding the safe removal of bearings, bushings, gears, sleeves, wheels, fly-wheels, sprockets and other shaft-mounted items.
"These simple, safe, swift and easily applied tools often mean that one worker can do a job that often requires two with other tools," says Darryl Lange, Enerpac National Sales Manager. "They do away entirely with outdated heat and impact processes which are not only inherently more hazardous, but which can also damage valuable parts and cause further delay in projects where time is already precious."
For loads up to 20 tonnes, SGM-Series mechanical pullers offer an economical and efficient option. For more complex tasks, up to 45 tonnes, the MPS-Series hydraulic pullers offer hydraulically applied pulling force through a detachable hydraulic cylinder to increase pulling capacity and reduce operator fatigue.
When one jaw is closed around the bearing surface, the others automatically close at the same time, making the puller easier and safer to operate. The synchronous feature of the SGM and SGH Series Pullers makes positioning the puller simple.
Enerpac
02 8717 7200
www.enerpac.com.au