SYDNEY SHOWCASE FOR SUCCESS OF AUSTRALIAN FOOD MANUFACTURING
25-07-2017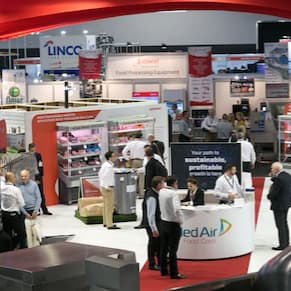 If anyone needed convincing of the buoyancy of the Australian food processing industry, a visit to foodpro 2017 in Sydney would have done the trick. As one of the top performing areas of the country's manufacturing industry, the food manufacturing business now accounts for 4% of Australia's GDP, employs hundreds of thousands of people and contributes significantly to Australia's exports.
In the words of Federal Minister for Small Business, the Hon Michael McCormack, who visited the show on opening day, it "is a fantastic example of the importance of food manufacturing in Australia. There's never been a better time to produce food. There's never been a better time to market it overseas."
Marking the show's 50th anniversary, the 2017 foodpro was the largest show ever, both in terms of numbers of exhibitors and floorspace occupied, and was the best attended ever in Sydney.
Split over two floors of the new Sydney International Convention Centre at Darling Harbour, the show saw some impressive displays from exhibitors, with the organisers awarding a tie between both Multivac and Sealed Air for the best stand at the show. Best shell scheme went to Wilmar BioEthanol, and best stand under 100m2 was Columbit Foods.
Event Director Peter Petherick is enthusiastic about the event: "foodpro 2017 was the best we've had, absolutely. It was marvellous seeing the show floors so busy, with visitors so engaged in what was on offer. From demonstrations of the larger equipment to ingredients exhibitors showing new additives – there was no shortage of interesting and valuable opportunities available. I can't wait to see what advancements, partnerships and products come from this show."
foodpro
03 9261 4500
www.foodproexh.com