SWITCHES AND CABLES COMBINE FOR RELIABLE INDUSTRIAL NETWORKING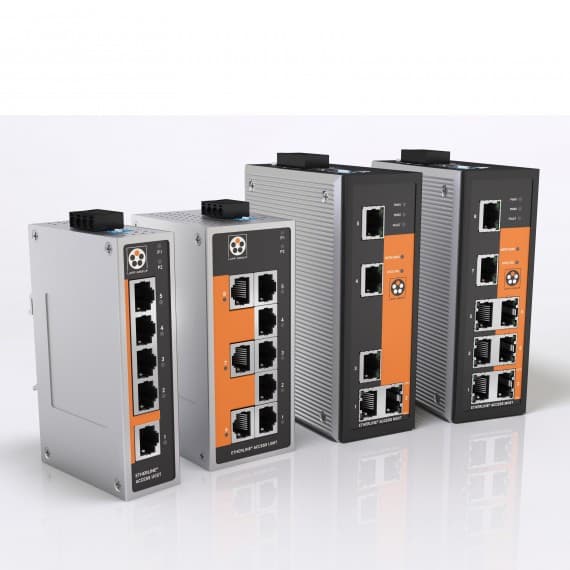 Successful digitisation depends above all on future-proof industrial networks. High speeds and excellent reliability are vital for business success. This requires the switches, cables and connectors used in Ethernet networks to be tailor-made for the job.
Today, high-performance switches are available from a number of suppliers. But when constructing industrial networks, companies often make the mistake of using cables and connectors that are not suitable for the industrial environment and whose performance does not match that of the switch.
Office connection solutions are completely unsuitable for exposure to chemicals and lubricants, or for use in areas such as robotics that require maximum flexibility. Securing industrial network performance for the long term therefore requires perfect matching between switch and cable.
To respond to this need, Lapp now offers switches under the Etherline Access brand, available through Lapp Australia.
Users can benefit from Lapp's global expertise, receiving a tailored combination of industry-specific switch and industrial cables that ensure both top transmission quality and reliability. They can source all the switches, cables and connectors they need for a complete industrial communication solution from a single source, along with accessories such as cable glands, protective conduits and markings.
Switches fitted with multiple RJ45 ports play an important role in Ethernet data transfer, thanks to their robustness. There are also sophisticated mechanisms for monitoring, diagnosis and redundancy in networks. These receive, process and forward data traffic to the network nodes. Thanks to the switches, the network topology remains flexible and can be adapted at any time. High failure safety is a further advantage.
20ms reconfiguration time
One important quality consideration for a managed switch is the availability of redundancy procedures. These help to ensure communication in the event of component defects. This requires the reconfiguration time, ie the time that a switch requires to restore the network connection after the loss of a datapath, to be as short as possible.
If the reconfiguration time is too long, a controller that communicates via the network will go into stop mode and production could grind to a halt.
In standard redundancy procedures like STP (Spanning Tree Protocol) or RSTP (Rapid STP), reconfiguration can take up to 5s. Depending on the application, this can sometimes be too long for industrial users.
Restoring the datapath more quickly requires better solutions. The switches in the Etherline Access series achieve reconfiguration times of less than 20ms in networks with up to 250 active components. The switches are arranged in a ring. This means that if one communication path fails, there is always an alternative path available via a redundant cable.
Tailored Ethernet connections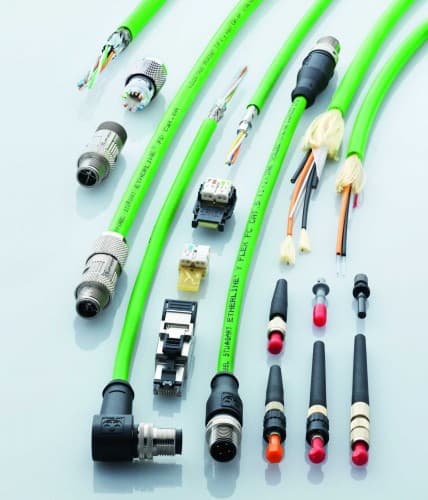 Lapp's Etherline brand offers tailored Ethernet connections for its Etherline Access high-performance switches, with the right product available for virtually every sector. For robotics, for example, there is Etherline Torsion. This Cat. 7 cable for transfer rates of up to 10Gbit/s is specially designed for flexible applications in which the cable is twisted up to 180°/m, and can perform this motion at least five million times.
The Etherline Access M05T and M08T managed switches come with five or eight RJ45 ports, making it very easy to construct redundant networks. The switches support all relevant protocols like HTTP, Telnet, EtherNet/IP, Modbus/TCP, IPv6, and many more. The devices also have two redundant energy supply ports to ensure maximum reliability.
They are highly resistant to vibration and impact, meeting the strict IEC standards for industrial components.
Standardised diagnosis
Configuration and diagnosis tools are also important features for users. These include a web-based configuration interface, statistics counters, e-mail alerts and further port settings. The Etherline Access switches enable standardised diagnosis of different network nodes via Simple Network Management Protocol (SNMP), and are also capable of port mirroring.
Causes of network failures, such as cable damage or the detection of a disconnected or incorrectly connected Ethernet cable, can be quickly identified. The devices have a relay output that can be used to define warning messages via a web interface. The Etherline Access Configurator is also available for configuration.
Lapp also has two "unmanaged" switches in its product range: Etherline Access U05T and U08T. They offer similar performance but come without the configuration options. These switches are suitable for collecting and distributing signals from the connected components. Just like their bigger brothers, the switches do not have fans and therefore require no maintenance.
Lapp Australia
1800 931 559
www.lappaustralia.com.au