Switched on service from Sippel
31-08-2010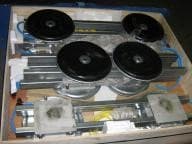 Smooth move … a set of Airskate Airbeams fitted with slide bars used to move bulky switchboards
No challenge is too great for the Sippel Group, leaders in the movement of heavy equipment for the past 35 years.
The Sippel Group has earned a reputation for safety and reliability with no injury to personnel, equipment, floors or buildings since it began operations.
Sippel has used its patented Airskate Airbeam Modules to shift a wide range of industrial equipment and machinery.
This includes moving cumbersome switchboards – a major challenge for any company.
Airskate Airbeams have helped major companies such as BHP move huge electrical switchboards. 
Most switchboards stand on short legs with a relatively low height tunnel between legs, making movement extremely difficult.
But with Airskate Airbeams it is possible to move switchboards from 800kg up to 2 tonne, measuring more than 2m wide and 2m high.
The Sippel Group has the capacity for the design and controlled manufacture of specialized Airskate handling facilities, or Airskates can be hired for local, intrastate and interstate moves.
Sippel Group
Ph: 02 9567 4889