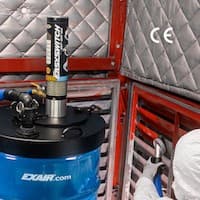 Vacuuming both wet and dry surfaces? EasySwitch has your solution
As a manufacturer of compressed air-operated products, Exair make it their business to solve the many and varied problems experienced by industrial plants.
Consequently, they are now excited to announce their new product, the EasySwtich® HEPA Vac, which facilitates the need to vacuum both wet and dry materials with ease.
EXAIR's new EasySwitch® HEPA Wet-Dry Vac simplifies the filter change process when switching from vacuuming a dry material to a liquid or vice versa.
Utilising minimal compressed air, the EasySwitch is a powerful pneumatic vacuum that is ideal for any application whether wet or dry, light or heavy.
This fast and tool-less conversion to vacuuming liquids is done by releasing one latch, removing the filter element and then re-securing the latch. The operator just reinstalls the filter into the lid assembly for dry materials.
Not only versatile, the EasySwitch is designed to handle the toughest of industrial clean-up jobs with ease.
This revolutionary product manages to be not only effective but quiet! Resting upon a 205-litre (44-gallon) drum, and distributed by Compressed Air Australia, the EasySwitch creates a powerful force at only 79 decibels without the need for electricity.
As the vacuum generator has no moving parts and uses no electricity, there is little concern for failed parts, motor failure or working with liquids associated with electric industrial vacuums.
The CE compliant EasySwitch is just the latest addition to EXAIR's large selection of Industrial Housekeeping products, including the Reversible Drum Vac, High Lift Reversible Drum Vac, Chip Trapper, High Lift Chip Trapper, Chip Vac, Heavy Duty Dry Vac and Heavy Duty HEPA Vac.