Published 08-07-2021
| Article appears in August 2021 Issue
Swisslog global virtual automation tour to feature Australian Coca-Cola site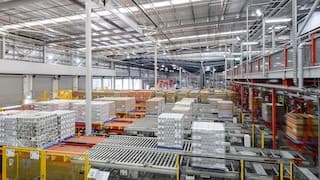 Swisslog's solution at Coca-Cola Northmead completely modernised its warehouse, using automation to deliver best practice levels of customer service, stock availability and reduced operational costs. 
Swisslog's "World Automation Tour" series will feature a virtual walk-through of the company's innovative automation solution at Coca-Cola Europacific Partners' (CCEP) site in Northmead, NSW.
The virtual automation tour will go live on July 14, from 4pm-5pm AEST (register here), providing viewers the opportunity to experience automation in action, and have any questions answered in real time. A Swisslog logistics consultant and on-site engineer will virtually walk through the automated warehouse in a guided tour.
CCEP is using an advanced Swisslog Automatic Storage and Retrieval (ASRS) system to enhance operational efficiency and safety, whilst also delivering top levels of customer service and stock availability.
Swisslog is a global leader in automation systems and technology for warehouses and distribution centres, with advanced solutions in more than 50 countries.
"The tour joins automation solutions from Berlin, London, Barcelona, New York and more, as Swisslog adapts to the global Covid-19 environment and seeks to continue to offer insights into our advanced solutions," said Mr Sean Ryan, Head of Sales and Consulting, Swisslog Australia.
"CCEP Northmead is an outstanding example of a solution that consolidated storage space, improved accuracy, enhanced efficiency and facilitated further growth for the customer. And with these virtual tours, viewers can see all this from their workplace, lounge room or local café," he said.
CCEP Northmead
The high bay warehouse at Coca-Cola Amatil, Northmead, Australia handles 60 million unit cases of soft drinks per year and 2,000 cans and 600 PET bottles per minute.
This high bay has the capacity to store more than 55,000 pallets, which is the equivalent of 158 million cans.
Swisslog's automation solution is supported under a lifetime partnership approach and includes storage systems, transportation hub and staging systems. In operation 24/7, the warehouse requires just 26 staff.
Vectura Stacker Crane Technology
Given CCEP's high pallet storage requirement and its limited availability of on-site space, the solution maximised vertical height using Swisslog's Vectura stacker crane automated storage and retrieval system (ASRS).
Swisslog's proven Vectura crane technology is a multi-talented and energy efficient high bay warehouse pallet stacker crane used in more than 2,000 customer projects globally.
Vectura cranes can perform equally well in temperatures as low as -30°C in a frozen food warehouse or in ambient environments as high as +50°C. Depending on the storage density and throughput requirements of a warehouse, it can handle one, two or more loads in single, double, triple and multi-deep layouts.
In high buildings and where land space is limited, Vectura cranes operate at heights up to 50 metres. Vectura cranes are also a more sustainable technology, with up to 20% lower energy consumption compared to traditional cranes, due to an innovative mast design and lighter crane weight.