Swing into action with DMF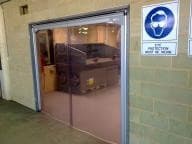 Clearly the best … PVC Swingflex doors from DMF
Popular, flexible PVC Swingflex doors are low noise in operation, and are ideal for protecting a working environment from dust, temperature and/or noise. 
Manufactured in Australia by DMF International, PVC traffic doors can be used in many applications including workshops, mining facilities, commercial kitchens, laboratories, supermarkets, hospitals, coolrooms and processing areas.
They are suitable for pedestrian traffic, trolleys, and heavy-duty models are available for forklift traffic.
DMF manufactures the doors using a high quality flexible PVC, which has very stable plasticizers. This means the PVC will not become oily over time due to the leaching of lesser plasticiser that occurs in lower quality forms of flexible PVC.
The flexible PVC can be an all-clear finish, translucent finish, or have coloured laminate finishes, together with see through window sections.
The Swingflex doors can be opened in either direction by pushing through, and will close automatically by a torque spring with variable adjustment. 
The frames are clear anodised aluminium and can be powder-coated to suit your décor. They come with either PVC or twin brush seals. 
Call DMF for a no obligation free assessment and quote. 
DMF International
1800 281 170