SWINBURNE WINS MANUFACTURING HALL OF FAME AWARD
15-06-2016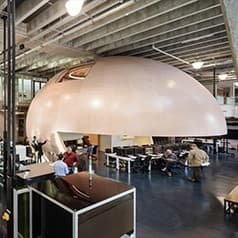 Swinburne has been recognised at the 2016 Victorian Manufacturing Hall of Fame awards, winning the International Education Award.
The awards, announced by Minister for Industry and Employment and Swinburne alumnus, Wade Noonan recognise and celebrate innovation, productivity and contributions made by manufacturers to the Victorian economy."We are honoured that Swinburne has been inducted into the Victorian Manufacturing Hall of Fame," says Swinburne Deputy Vice-Chancellor (Research and Development) Professor Aleksandar Subic.
"We strive to make our research and education programs relevant by creating strong partnerships with industry and other universities within Australia and internationally. Working collaboratively, we are continuing to develop new products, education innovations and more productive, sustainable businesses."
Swinburne has attracted large numbers of high-quality international students to its engineering programs. These students work with high-calibre domestic students, world-class researchers and leading academics to push the boundaries of advanced manufacturing. 
"Our commitment to international education has also ensured that the manufacturing industry has access to a pipeline of high quality graduate engineers with cutting edge specialist skills," Professor Subic says.
Building on Swinburne's long history of industry collaboration, the university's Factory of the Future and Smart Structures Lab provide a new home for excellence and output in Australian product design and manufacturing.
These facilities are equipped with advanced visualisation, design and testing tools, giving designers the resources to rapidly create concepts, develop prototypes, test products, and research potential manufacturing methods.
Creating partnerships with industry is integral to all of Swinburne's teaching and research.
With the theme 'Towards Future Industries', the 2016 Victorian Manufacturing Hall of Fame awards promote outstanding and forward thinking local businesses and individuals that are raising the bar in Victorian manufacturing.
The awards include:
• Young Manufacturer of the Year
• Manufacturer of the Year
• Company Induction
• Honour Roll