SWINBURNE ESTABLISHES EAST ASIAN RESEARCH CENTRE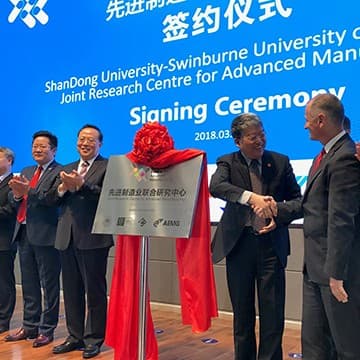 Swinburne university has established the Joint Research Centre in Advanced Manufacturing in Weihai Economic and Technological Development Zone in Shandong, creating further connections between industry in Australia, China and South Korea.
The centre is a partnership between Swinburne, Shandong University Weihai (SDUW), Weihai Economic and Technological Development Zone(WZ) and the Australian Education and Management Group (AEMG), aimed at developing advanced manufacturing technologies. 
Their inital aims include developing further technologies in 3D printing, industrial automation, robotics, advanced materials processing for carbon fibre composites, and digitalisation across the value chain from design to business supply chain innovation.
Swinburne President and Vice-Chancellor Professor Linda Kristjanson said the initiative will become a whole-of-university partnership.
"Swinburne intends to broaden and deepen engagement with Shandong University and with industry in the economic and technological development zone across all domains of our endeavour," she said.
"Our vision is that the relationships we build through our initiative here in Weihai will advance and support trade between our nations across a range of sectors."
Over the first five years, the centre will house 100 PhD research students working on high impact projects supported by industry from Australia, US and South Korea.
Deputy Vice-Chancellor (Research and Development) Professor Aleksandar Subic said that Swinburne has also entered formal collaborations with six industry partners in Shandong.
"Our partnership model is unique as it goes beyond academic collaboration and involves industry and the economic and technological development zone," he said.
Swinburne is the first Australian university to develop a base in Weihai. Swinburne is also the only university to join the CSIRO and representatives of the Australian manufacturing sector on the Prime Minister's Industry 4.0 Taskforce.
"Swinburne and the CSIRO aim to collaborate on industry projects of joint interest in China as part of our strategic research alliance," said Subic.
"We live in exciting times of fundamental technological and industrial transformation. The pace and scope of ground-breaking scientific and technological advances resulting from research and innovation is unprecedented."