Swift move: new bolted hanging brackets
31-08-2010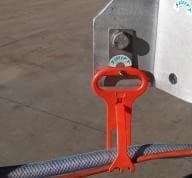 Swift Metal Services has expanded its range of cable and hose brackets and components with the launch of innovative, relocatable, bolted hanging brackets for hose, pneumatic lines & cables. Swift Bolted Hose & Cable Hangers are essential for trades personnel using electrical, pneumatic or hydraulic equipment, where having leads, hoses or lines on the ground can present a serious trip hazard. Swift Bolted Hose & Cable Hangers are relocatable combined and hold up to 25kg, in the vertical plane.
Features include:
Permanent and temporary installations
Each Swift bolted hose & cable hanger holds up to 25kg.
Adjustable HDPE strap is designed to support various quantities and sizes of hoses, cables and pneumatic lines.
These versatile brackets can help to improve safety across a broad range of industrial, commercial and underground sites. Current applications include the Airportlink tunnel project in Brisbane.
Australian designed and produced, Swift Bolted Hose & Cable Hangers are also ideal in workshop applications where large projects or machinery necessitates the use of long leads or hoses, during construction. These new products build on the extensive range of brackets, components and parts produced by Swift Metal Services Pty Ltd. Products are available in a variety of materials including mild steel, stainless steels, aluminium and zinc plate.
Swift Metal Services Pty Ltd
Ph: 1800 626 525
www.swiftmetal.com.au