Swift Metal thinks inside AND outside the square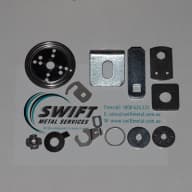 To accommodate nearly all commercial or industrial needs, Swift Metal Services has manufacturing capabilities that include non-standard square and rectangular washers.
Custom square and rectangular washers complement diverse fastening applications across a broad range of industries including automotive, construction, manufacturing and shop-fitting.
With their flat sides, rectangular and square washers are designed to prevent rotation and fit in restricted spaces that do not accommodate traditional round washers.
Customization options include a variety of materials and sizes that cover a range up to 150sqmm with thicknesses from 0.2mm through to 3mm.
Swift Metal Services square washers can be pressed or stamped from most commonly available materials including carbon steel, stainless steel, aluminium, copper, brass, spring steels and galvanized steel.