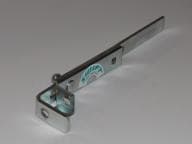 Specialist component manufacturer Swift Metal Services has expanded its range of shootbolts, to suit a wide variety of roller doors and shutters. 
The expanded range includes a 32mm x 3mm zinc plated shootbolt with an overall travel length of 285mm. 
Standard mounting holes are 9mm Ø and suit 10mm (3/8") padlocks. 
Swift Metal Services offers Australian manufacturers of commercial and industrial roller shutters and doors exceptional quality, durability and continuity of supply, for broad range of componentry. This includes door stops, shootbolts, capstan components, wind lugs, slat clips and U-bolts. 
Swift provide a repetition manufacturing service to custom produce roller shutter shootbolts, if the standard range does not fit your style of door or shutter. 
Swift Metal Services Pty Ltd
Ph: 02 6969 2333