SWEEPING, SCRUBBING, OR BOTH!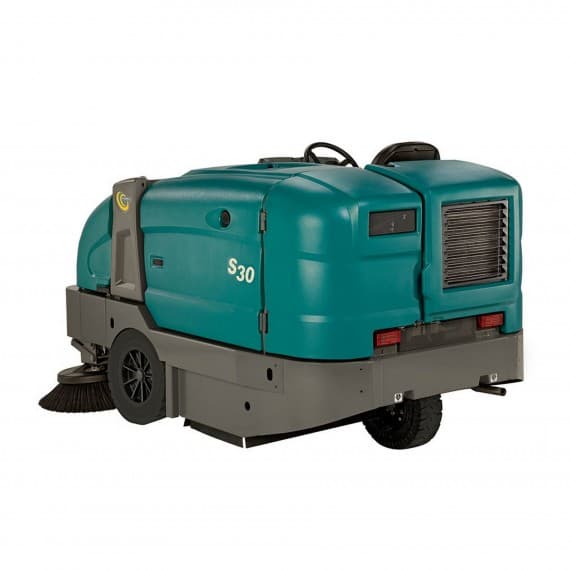 Sporting a full range of features, Tennant offers two products that are designed to meet all of your ride-on scrubbing and sweeping needs. 
The S30 Ride-on Sweeper
Tennant's S30 delivers exceptional indoor and outdoor dust control is designed to tackle the harshest of environments.
It benefits from the recently upgraded SweepMax™ Plus Cyclonic System that helps to reduce your cost to clean and improve your facility's image.
This innovative, high performing machine is the industry's only sweeper with a 3-stage filtration system, and the only mid-size sweeper equipped with a cyclonic pre-filter. This means less dust reaches the filter, resulting in fewer shake backs, increased filter life and more time spent sweeping.
Engineered for reliable, industrial strength sweeping from fine grains of sand and dust through to light debris, the S30 sweeps and cleans quickly, while maximising dust control.
The S30 has also been upgraded with a ThermoSentry™ heat sensor located in the path of the system airflow from the hopper to the vacuum fan. This senses the air temperature passing through the vacuum fan and initiates shutdown if temperatures exceed 70 degrees celsius. This feature helps prevent fire if the debris in the hopper ignites, protecting your operator and facility.
Optimised for performance, safety and ease of use, the S30 delivers consistent and effective results to help reduce your cleaning costs, improve your facility's image and provide a safer working environment for your employees and customers.
The M20 Ride-on Scrubber-Sweeper
If you need something more, Tennant offers a range of exclusive, fully-integrated scrubber-sweepers engineered for consistent, industrial strength cleaning.
Unlike traditional scrubber-sweepers, the M20 is not two separate machines bolted together. Rather, they have an integrated internal and external design to ensure the machines are simple to maintain, extremely efficient and last far longer than most.
The M20 is a highly versatile machine ideal for large scale manufacturing and distribution centres, and has both a complete dry sweeping capability and a complete scrubbing capability.
These systems can be used independently through the push of a button. This eliminates the need for two separate machines whilst combining Tennant's unique technologies for unsurpassed water recovery and excellent dust control.
The major benefit of Tennant's integrated machines is the ability to scrub and sweep at the same time using the FloorSmart ® system. This combines twin cylindrical brushes and twin vacuum fans to direct the water to the recovery tank and the debris to the hopper. This boosts productivity significantly as the hopper does not fill with water and does not need to be emptied as often.
The M20 can be configured to your needs, with one of four different scrubbing systems, powered by petrol, diesel or LPG. It is designed to overcome the cleaning challenges faced in a variety of applications while maintaining a safe operating environment.
Tennant
tennantco.com/au/manufacturing
1800 226 843