Sweeping new change from Conquest
31-08-2010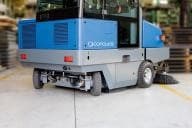 Safety and stability … the Conquest PB170D-4 four-wheel sweeper
Conquest Equipment Technologies has unveiled an innovative new four-wheel sweeper that provides greater safety and stability.
With the new Conquest PB170D-4 four-wheel sweeper users can now clean large areas with ease and comfort. 
The machine features two rear wheels driving and two wheels steering in lieu of the traditional single wheel.
The Conquest PB170D-4 delivers:
Better traction
Smoother ride
Less strain on machine
Increased stability
Incorporating the qualities found in every Conquest sweeper, the PB170D-4 is fast becoming a market leader for heavy-duty industrial sweepers.
It is ideal for a broad variety of applications including shopping centres, shipping docks, transport depots and large manufacturing sites that all demand strong, reliable sweepers.
Conquest Equipment Technologies
Ph: 1800 826 789