SWAY CONTROL KEEPS LONG CRANE LOADS MORE STABLE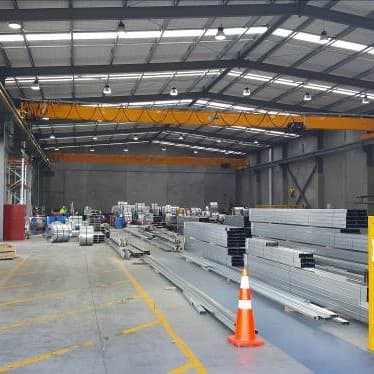 A 5-tonne Konecranes gantry crane with CXT hoist installed recently at the Christchurch base of NZ roofing specialist Metalcraft is one of the first of a new generation of gantry cranes with sway control. Installed by Southern Cross Engineering, the new unit is already in use for lifting purlins up to 23.5m in length onto trucks.
"The sway control feature added to this latest crane makes a massive difference to the overall safety and efficiency of lifting, especially when dealing with such long loads," says Ben Blower of Southern Cross Engineering.
"Konecranes present the best option for customers who need additional features to optimise safety, reliability and efficiency. They provide New Zealand companies a unique offer, in their ability to supply a range of advanced features, such as sway control, which are proven through applications around the globe," he adds.
The Konecranes DynAPilot sway control system automatically limits load sway by controlling the bridge and trolley acceleration and deceleration rates. This enables precise load positioning and reduces load cycle times.
"Sway control makes the crane significantly easier to operate. Once the operator has dialled up the hook to load distance on the remote, there is no input they can give the crane to make the load sway," says Ben Blower.
"Before sway control existed, an experienced crane operator had to manually control the sway of a load by using jogging movements at the start and end of each lift, but this leads to excessive wear on the motors, in extreme cases buttons on remotes have been worn out as a result of this," he adds.
"I've already had the operators come back to me and comment on just how easy the new crane is to use and how stable the load is. For any of their future lifting solutions, I believe they'll definitely be looking hard at including sway control in the specification."
Sway control not only improves the efficiency of the lift, but makes the entire facility a safer workplace. It reduces the risk of the load colliding with valuable machinery or plant, and most importantly avoids collisions with workers.
"Sway control has helped this Metalcraft facility minimise any safety risks from moving loads which can be difficult for even experienced operators to keep under control. We are seeing more and more customers opting for Konecranes range of smart features, as this technology can assist in offering the maximum level of safety in their workplace," concludes Ben Blower.
Konecranes
1300 937637
www.konecranes.com.au