Sustainable Australian battery manufacturing strengthens in NSW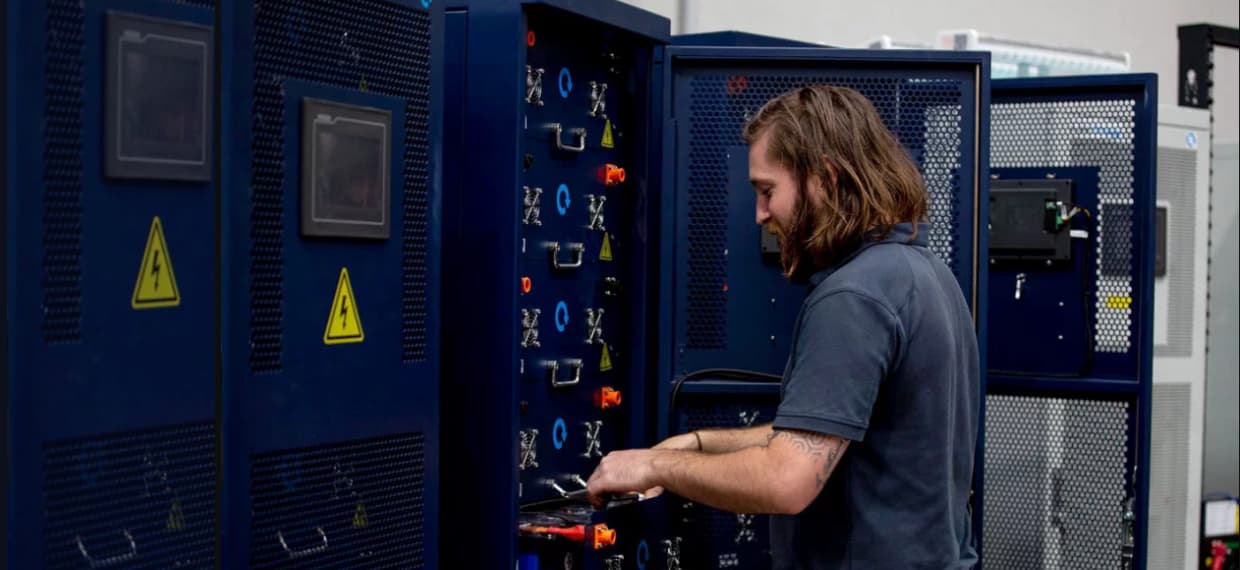 Renaissance One, which is building the country's first giga-scale battery manufacturing facility in the Hunter Region industrial suburb of Tomago, has appointed three Australian companies to provide key components that will be used to manufacture its superStorage™ family of batteries.
The news comes on the same day that the opposition unveiled a $100 million equity injection for a Queensland battery manufacturing precinct in partnership with the state government.
According to Labor leader Anthony Albanese, "One of the lessons of the COVID pandemic is that we need to be more self-reliant and make more things right here. Today's project does just that. It is also about getting more value out of the supply chain. Making sure that we send a message as well that Australia, under a federal Labor government, is open for business. Open for the opportunities that can come from making more things here.
"In Australia, we have the people, skills and resources to make batteries right here. We have resources like ... copper, nickel. All we do is we send those resources offshore. We see the value added somewhere else, and then imported back once the value has been added.
"It makes far more sense to use those resources, and make things here. And that is certainly possible," Albanese said, adding that Australia could create 34,700 jobs and $7.4 billion in economic activity by 2030 if the country adopts a locally made battery strategy.
Hot climate batteries
Energy Renaissance invented and is now manufacturing Australia's lithium battery technology, has described the hot climate batteries as "super tough" that will suit commercial energy storage and use in heavy transport.
Through long term framework agreements and preferred supplier relationships, this step forms part of the company's move towards achieving 100 percent onshoring of its manufacturing of batteries in Australia and contributes to 92 percent of components in their batteries sourced from Australian companies:
Academy Sheetmetal, a family owned sheetmetal manufacturer in Newcastle, NSW, will supply the steel cabinetry that is used for the Renaissance superRack™ and superPak™.
GPC Electronics, one of Australia's largest contract electronics manufacturers in Penrith, NSW, will supply the printed circuit boards that are used in the Battery Management Systems (BMS).
B&C Plastics, an Australian plastic moulding injection manufacturer in Brisbane, QLD, will supply the plastic components that are used in the packs.
32 of the 35 components that make up a superStorage™ battery are produced in Australia, validating Energy Renaissance's commitment towards strengthening its local supply chain, creating local jobs and opportunities for all Australians.
Energy Renaissance, managing director Mark Chilcote said, "Energy Renaissance is dedicated to on-shoring manufacturing in Australia so we can protect our customers against global supply chain constraints and unexpected price increases that come with increased freight costs.
"We started our business with a target to have 100 percent of our manufacturing completed in Australia. However, this target can only be achieved with a long-term partnership with local suppliers who will invest in business to grow in line with our production requirements.
Chilcote explained that Energy Renaissance was strengthening local manufacturing and, in the future, securing its supply chain for critical battery minerals when it began manufacturing battery cells in Australia.
Energy Renaissance's procurement strategy includes:
Supporting both small and medium businesses to large corporations
Partnering with values-based organisations who are committed to their customers, workforce safety, diversity and a quality assurance process
Working closely with Australian companies to reduce the cost of producing components needed for superStorage™ In the longer term, this will make it more cost competitive for components to be manufactured locally as Australia competes with global manufacturers
"While negotiating for supplier agreements, we found local manufacturers who are price competitive with similar components made with a higher quality standard than what we would have to import. This has challenged our views on sourcing for components globally and highlighted that we do have many local companies who share our passion of onshoring manufacturing," he added.
Ramping up production
Meanwhile, Energy Renaissance is continuing to negotiate local supply agreements as it ramps up the production of Australian-made batteries.
At this stage, the growing team is working out of a temporary production facility while the finishing touches are made to the giga-factory which is expected to start commercial production by October this year.
And while this means they are currently still importing battery cells for its SuperStorage batteries, Energy Renaissance has been building up a chain of local suppliers to provide almost all of the other parts.
This includes Academy Sheetmetal, a family owned business from Newcastle, to supply the steel cabinetry for the battery racks; Penrith-based GPC Electronics, to supply the printed circuit boards for the Battery Management Systems; and B&C Plastics, based in Brisbane, for the plastic components used in the packs.
The new partnerships mean that 32 of the 35 components that make up a superStorage battery are produced in Australia, which has been at the core of Energy Renaissance's grand vision to build new skills and jobs as well as locally made batteries.