Surge in Chinese manufacturing
31-08-2010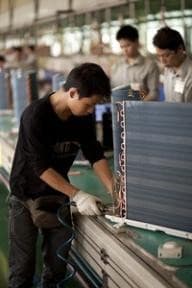 A slowdown in China's manufacturing sector has eased, according to latest data.
The HSBC's monthly purchasing managers index (PMI), which measures factory output, rose to 49.1 in April, up from 48.3 in March.
A reading above 50 indicates expansion. Readings below 50 suggests contraction.
Though it was the sixth consecutive month of contraction in the sector, HSBC officials remain optimistic.
Chief economist Qu Hongbin said the data suggested that government measures to stimulate the economy appeared to be working and "should ease concerns of a sharp growth slowdown".
HSBC's figures are typically more pessimistic than government manufacturing data, which have not yet been released for the month.
Last month's government figures showed that manufacturing output rose to its highest level in a year in March, the fourth consecutive month that the official numbers indicated expansion.
China's economy is widely expected to slow this year as woes in key export markets such as Europe and the US hit its overseas sales.