Supporting clean, green businesses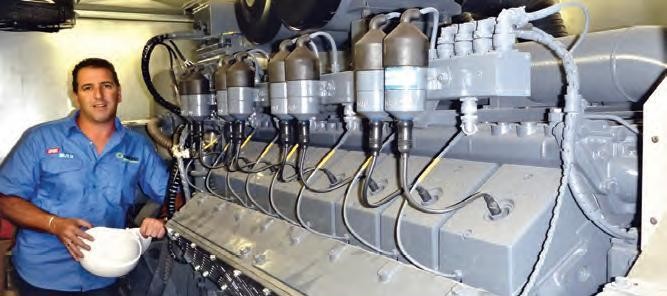 Energy efficiency in manufacturing is not just about reducing carbon emissions. It is about improving what we make and how we make it through supporting new products, processes and skills, and building relationships with research, education and training providers.
An innovative manufacturing industry is essential to a sustainable Australia.
That means working with industry to turn necessity into opportunity, by becoming energy efficient, reducing consumption and cutting costs, while improving jobs, global competitiveness and the way work is organised. In short, energy efficiency is an opportunity for manufacturers to strengthen their business and gain a competitive advantage as Australia and the world moves to reduce carbon emissions.
Enterprise Connect, a federal government initiative backed by industry, offers comprehensive advice and support to eligible Australian businesses to help them transform and reach their full potential.
How can Enterprise Connect help you?
Enterprise Connect understands that success in manufacturing has a lot to do with making powerful connections and getting the right advice.
Eligible businesses can access Enterprise Connect services which link businesses to new ideas, technologies and markets through the Clean Technology Innovation Centre.
Enterprise Connect's Clean Technology Innovation Centre assists businesses involved in:
• Renewable energy generation
• Commercial and industrial water, refrigeration, heating, ventilation, air conditioning, solar hot water, and desalination or water efficiency
• Energy efficiency and
• Waste management, recycling, environmental assessment and monitoring or remediation.
The service begins with a comprehensive and confidential Business Review that assists businesses to:
• Review business strategy and operations
• Identify strengths and opportunities, including benchmarking against best practice
• Assess potential areas for growth and improvement and
• Access world-class business tools, processes and technology.
Tailored Advisory Service funding is available to businesses to implement recommendations flowing from the Business Review and Enterprise Connect Business Advisers can provide connections to researchers, industry associations, training and other sources of funding and advice.
One Australian business that has put Enterprise Connect advice into action is Simons Green Energy.
In an increasingly low-carbon economy, Derek Simons, Chief Executive Officer of Simons Green Energy, wanted to capitalise on this market opportunity.
Specialising in cogeneration and trigeneration technology systems, Simons Green Energy was well placed to enter the market.
"The business' cogeneration and trigeneration systems were highly competitive in quality, efficiency and price, however, an emerging issue was poor market awareness and understanding about the technology," explained Derek.
"Cogeneration or combined heat and power (CHP) technology converts gas into both electricity and heat in a single process at the point of use. Cogeneration produces the best results in applications that have a constant and substantial heating and/or cooling load, such as aquatic centres, data centres, hospitals and commercial office buildings."
"Trigeneration is a combination of the cogeneration system and an absorption chiller. It is the simultaneous conversion of a fuel into three useful energy products – heat, power and cooling. These systems can be utilised for commercial, industrial, rural & agricultural application."
Simons Green Energy needed a business plan, new sales and financial management systems, specialised staff and a new marketing approach.
The company approached Enterprise Connect Business Adviser, John Keegan, who conducted a high level and independent Business Review.
"The business had great potential but like most medium sized businesses, the tight budget was limiting its capability to expand," John explained.
John advised the business take advantage of Enterprise Connect's Tailored Advisory Service (TAS) to assist in the execution of the Business Review recommendations.
Simons Green Energy successfully applied for a TAS grant to develop a clear business plan and implement a comprehensive marketing strategy. The grant also assisted the business to focus its efforts on more attractive target markets and deliver a message of energy efficiency and sustainability.
"The cogeneration market is still in its early stages in Australia. We had to focus on specific target markets such as manufacturing, clubs, aquatic centres and hotels," Derek explained.
"In the manufacturing sector it became obvious we needed to capture attention, introduce new concepts in power generation, and demonstrate compelling financial benefits."
This strategy has paid dividends. Simons Green Energy has grown its revenue fivefold over the past 12 months and has increased its sales pipeline dramatically. Awareness of the Simons Green Energy brand name is now gaining traction and the business is increasingly recognised as an expert in cogeneration and trigeneration.
Simons Green Energy is now working on a joint project with Enterprise Connect to deliver a series of educational seminars aimed at educating industry on cogeneration and trigeneration.
Enterprise Connect
Ph: 131 791