Support for axed Ford workers
31-08-2010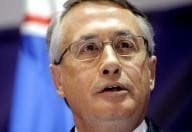 Wayne Swan … support
Treasurer Wayne Swan has pledged Government support for workers affected by Ford's decision to axe 212 jobs at its two Victorian plants.
"The government will do everything it possibly can through our programs to assist those workers," Mr Swan said.
Late last week Ford advised workers at its Broadmeadows and Geelong plants they no longer have a job, due to a downturn in sales and the high Australian dollar.
In March the company received a $103 million assistance package, including $34 million from the federal government.
When asked if the package was a good investment, Mr Swan said the government had been working hard with the auto industry to secure its place in the global supply chain.
"We will never give up supporting Australian workers and ensure we've got competitive Australian industry, Mr Swan said.
"We're proud of what we've done over a long period of time to support the auto industry in this country."
Opposition leader Tony Abbott said federal government assistance given to Ford has been ineffective and failed to protect jobs.
Mr Abbott said everyone wanted a viable and efficient motor industry in Australia because it was a sign of a truly first-world economy.
"But I've got to say that the policy that the government has pursued does appear to have let a lot of people down," Mr Abbott said.
Mr Abbott said Prime Minister Julia Gillard had predicted earlier this year the Government's $34 million assistance would create an additional 300 jobs.
"But sadly we seem to have yet another situation where the prime minister has been spending money but not getting the kind of result that the Australian people are entitled to expect," Mr Abbott said.
All levels of government should do more to support automotive jobs, he said.