Supply chain award winners announced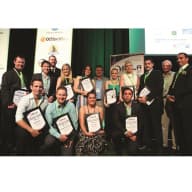 The winners of the 2013 Queensland Supply Chain & Logistics Awards have been announced at a charity dinner at the Queensland Supply Chain and Logistics Conference in Brisbane.
More than 320 people attended the dinner at the Sofitel Hotel.
The awards are held by the Supply Chain & Logistics Association of Australia (Queensland Division) in conjunction with Telstra Enterprise and Government, All Purpose Transport, apicsAU, Closed Loop Environmental Services, Energex Limited and Transpacific Industries Group.
Winners included:
2013 Queensland Future Leaders Award
Kingsley Cherry Consultant, Project Procure – Kingsley Cherry has been the leader for the Project Procure team acting in partnership with Charles Kendall Partners as the International Procurement Agent for the Republic of Nauru.
2013 Queensland Industry Excellence Award
Paul Kahlert, General Manager, All Purpose Transport – in recognition of his 26-year
involvement with the Supply Chain, Logistics and Transport industries.
2013 Queensland Environmental Excellence Award
ENERGEX Limited – the ENERGEX Carbon Management Plan outlines a broad range of carbon mitigation initiatives that reduce emissions, improve efficiencies in energy and waste and drive innovation in delivering energy to customers.
2013 Queensland Supply Chain Management Award
Polar Fresh Cold Chain Services, Parkinson DC – the company has gone through a major period of change and growth in the last 12 months with the implementation of fresh produce into the site. Their dedicated facility now employs over 650 Team Members and supplies all confectionery, milk, poultry, meat, dairy, chilled, frozen and fresh produce products to over 200 stores throughout Queensland and NSW. 
2013 Queensland Training, Education & Development Award
Transpacific Industries Group – over the past 12 months, Transpacific Industries Group has actively targeted the engagement of its workforce to enhance the way they do business and to attract and retain a more diverse workforce.
The Queensland SCL Awards are the state feeder program for the Australian Supply Chain and Logistics Awards, to be held on November 28 at the Sydney Opera House.