SUPERIOR SENSORS FOR INDUSTRIAL HVAC APPLICATIONS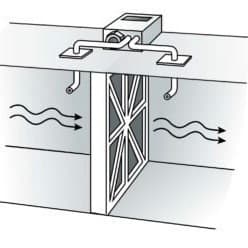 Mouser Electronics has signed a global distribution agreement with California-based Superior Sensor Technology, a leader in application-specific pressure sensors. Through the agreement, Mouser will add Superior Sensor Technology's differential low-pressure sensors to its product range.
The Superior Sensor Technology products available from Mouser Electronics include its HV series of high-performing, application-specific, low-pressure sensors and corresponding evaluation kits. Designed for industrial heating, ventilation and airconditioning applications, the series is available in three pin-compatible modules: HV110, HV120 and HV210, offering four, five and seven full-scale pressure ranges, respectively.
The HV sensors use proprietary Multi-Range technology to achieve the industry's broadest dynamic range while maintaining up to 10 times performance improvement over other solutions. They are based on Superior's NimbleSense architecture, an integrated platform combining advanced piezoresistive sensing elements, analogue signal path, processing intelligence and proprietary integration techniques. The sensors' piezoresistive MEMS technology enables higher performance, competing effectively against mass flow and capacitive technologies for applications that require zero stability and/or low-drift performance.
The sensors can be calibrated and performance optimised in a pressure range from 25 to 5000Pa while maintaining 0.1 per cent accuracy at each selected range, enabling HVAC manufacturers to replace up to seven sensors with a single HV series sensor.
Standard features of the HV series include 16-bit output resolution for each selected range, 50/60Hz notch filter, programmable bandwidth filters from 0.1 to 10Hz, compensated temperature range of 0 to 50°C, and standard I2C and SPI digital interface support. The three sensors support varying HVAC pressure requirements for differential pressure transmitters, positive pressure modules, variable airflow valves and airflow monitor systems.
Mouser Electronics
+852 3756 4700
au.mouser.com