Super new flat air nozzle from Exair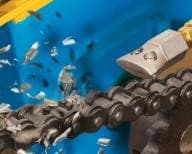 Exair's new 1" Flat Super Air Nozzle produces a flat 1" (25mm) wide airstream with a strong blowing force of 9.8 ounces (278g) when mounted 12" (305mm) from the target. 
The unique design of this super-efficient nozzle makes it an ideal fit for both tight spaces and tight budgets.
Available from Compressed Air Australia, the 1" Flat Super Air Nozzle uses Exair's patented technology to maximise entrained airflow while reducing noise levels. 
A precise amount of air is released through the .015" (0.38mm) air gap opening that is set with a stainless steel shim positioned between the body and removable cap. 
The airstream pulls in surrounding room air to produce a wide, forceful stream of high velocity, laminar airflow. 
Air consumption is 10.5 SCFM at 80 PSIG. The 75 dBA sound level is below the limits of the OSHA maximum allowable noise exposure standard 29 CFR 1910.95(a).  
Force and flow may be easily adjusted by installing different shim thicknesses. Optional swivel fittings and Stay Set Flexible Hoses to aim the nozzle are also available. 
Suitable for rugged industrial applications, the 1" Flat Super Air Nozzle is available in zinc aluminum alloy or type 316 stainless steel construction. 
Applications include ejecting heavy parts and slugs, chip removal, part cleaning, drying, liquid blowoff and cooling. 
Compressed Air Australia Pty Ltd
Ph: 1300 787 688