SUNSWIFT SOLAR CAR MOVES TOWARDS ROAD LEGALITY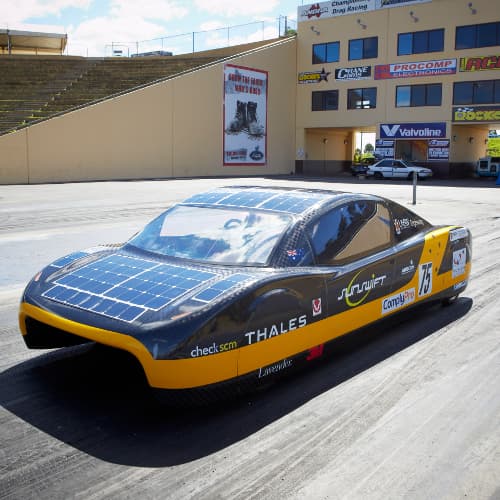 After seeing a Brisbane-based solar car hit the headlines in a bid to become the first road-legal Australian solar car, UNSW's Sunswift team have redoubled their efforts to stay ahead in the race for certification.
The past two months have seen exciting progress in both the road legality of their solar car eVe, as well as progress on the tech behind their next generation of car.
With the help of UNSW, they have brought one of the country's best certifiers on board to help them wrap up the process. So far, they have had a successful inspection of eVe to ensure it complies with the safe and strict Australian Design Rules.
"There is more paperwork and inspections ahead," they say,  "but our goal for Australia's first road legal solar sports car remains on track."
"Meanwhile designs are still progressing for our 6th generation solar car with manufacturing due to commence before the end of the year. The end of the year will also see the team touring schools in regional NSW as part of our thriving outreach program."
From the 24th of November till the 3rd of December, their team will be reaching out students, aiming to educate them on the 'endless possibilities' of engineering using eVe as a key example, as well as specially designed interactive workshops.
Sunswift is also currently looking to find transportation and food partners to assist with the workshop's cost, to allow them to maximise the time and energy they spend working with the students.