Sunny days ahead for Lencrow
31-08-2010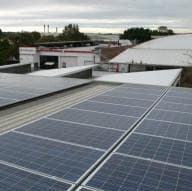 Lencrow Materials Handling has kept on its path of corporate social responsibility by installing a 30kW solar power system to their NSW workshops. 
The unit is designed to supply enough power to run the workshop and offices during daylight hours. It also has the capacity to power the charging of battery electric forklifts prior to delivery.
"We looked at ways that we could improve our carbon footprint, says Ross Grassick Managing director of Lencrow. "We had already looked at offering a larger range of electric powered forklifts and vehicles for sale and hire. This still didn't create a large enough effect on our own footprint but rather the people we supply to. We then looked at our power consumption and how to reduce it, finding this a hard task, we looked at producing our own power from solar. This system was achievable at a reasonable cost with the added bonus of the system being almost totally invisible."
The system supplied by Energo employs 120 solar panels that have a 25-year warranty and is regulated through two 15kW inverters. 
The unit was optimized to provide enough power to cover the buildings power usage in daylight hours. The system provides a 20-year Carbon Abatement of 818 tones of carbon.
The system is now in operation, with no visible or operational difference at the complex.
"We have been very happy with the whole process and are looking at the results of this system with the view to fitting this type of system to our other sites, says Mr Grassick. 
Lencrow
Ph: 1300 536 276