Published 06-04-2021
| Article appears in April 2021 Issue
Sun-chasing solar tracker actuators respond to Australian climate and industry needs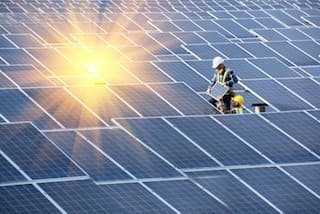 Low maintenance Airstroke actuators from Firestone provide a compact and easily installed way to facilitate robust and reliable engineering of clean green solar renewable power installations for utilities and industry concerned about sustainability and rising electricity bills.
The simple pneumatic actuators can be installed in both solar farm and individual industry plants to continuously orient solar trackers' payload towards the sun to optimise the amount of energy produced from installed power generating capacity.
"These proven actuators respond to global renewables trends that have seen some of the world's largest corporations go very big on solar renewables – including Amazon, Apple, Ikea, Target, Prologis and Costco," says Mr James Maslin, technical product manager for Firestone Industrial's Australian national distributor, Air Springs Supply.
The rubber and fabric actuators solve the problem of stationary solar collection panels becoming inefficient as the sun shifts from a 90-degree angle to the panels. Usually inflated or deflated by standard fixed or mobile compressed air (typically the ubiquitous seven bar (100 psi) compressor equipment used throughout Australia), they can smoothly and continuously reorient photovoltaic systems to minimise the angle of incidence between the incoming sunlight and a photovoltaic array.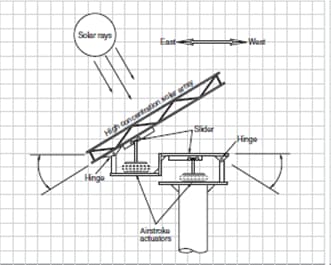 "Typically, these very simple and robust actuators will give millions of cycles in service without needing maintenance, because they don't have any of the rods, seals and complexity of usual hydraulic and pneumatic actuators," says Mr Maslin.
"Typically they are powered by the simple type of compressed air equipment found in industrial plants throughout Australia, although we have heard of an ingenious actuation alternative that uses the expansion and contraction of Freon gas as it is heated and cooled within the actuators to extend and retract them and change the angle of the collection panels (as per illustration). 
Airstroke actuators filled with fluid have also been used for heavy actuation, such as splitting a mining dragline for maintenance, so they can handle very heavy loads where required."
"Airstrokes are particularly beneficial for commercial installations, where continuous focusing of the arrays through single or dual-axis arrangements enhances energy returns. Such installations – sometimes in remote locations and subject to climatic extremes over 24 hours – need extremely reliable actuators to continuously reposition payloads such as solar panels, reflectors, mirrors or lenses," says Mr Maslin.