SUHNER LAUNCHES NEW RANGE FOR EFFECTIVE CLEANING OF METALS
26-09-2015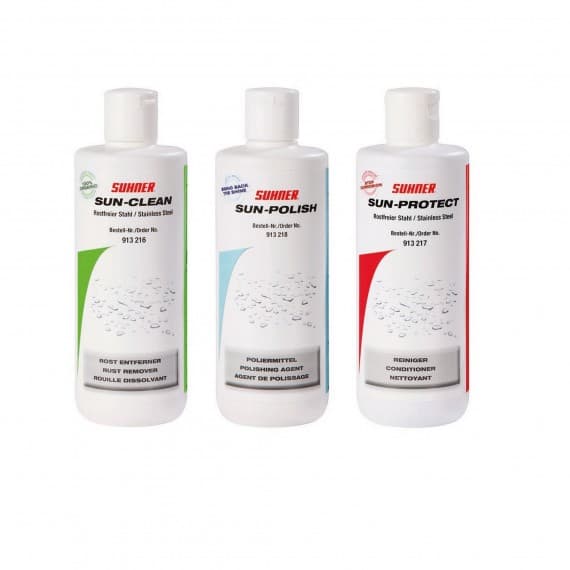 Suhner Australia has released its new "green" based INOX range of cleaning agents for stainless steel and other metals.
The INOX cleaning, protecting and polishing agents are made from plants, are free of harmful chemicals and very effective against even the most aggressive deposits of contamination and dirt on metals.
The Suhner INOX range cleans metals with ease and removes contamination embedded in metal pores as well as all kinds of rust. It also protects and polishes metals.
Included in the range are the INOX Sun Clean, Sun Protect and Sun Polish.
Fast-acting, the plant-based ingredients of all three agents work remarkably effectively to clean, protect and polish metals.
Plus, all three Suhner agents can be used independently or collectively by hand on various metals. Users can simply apply the agent required for the job at hand.
The Sun Clean removes rust and deposits from stainless steel, aluminium, copper and mild steel. The agent is specially made from plants and does not pose any risks to people's health or the environment.
The deep cleaner is very effective and quickly and easily removes dirt without damaging the oxide film on the metal.
INOX Sun Protect is a neutral and mild agent that washes away all residues. It protects all metals against corrosion and contamination by creating a barrier. It works by forming a protective film of nano particles to promote the exchange of oxygen needed to build an oxide layer.
The regular use of the agent helps to eliminate corrosion even in environments that possess aggressive ambient air. Like its sister products, Sun Protect is also made from plant based material and is friendly to both humans and the environment.
The INOX Sun Polish has been created specifically to clean matt surfaces. Suitable for stainless steel, nickel, copper, bronze, chromium and aluminium, it brings the lustre back to metal quickly and easily.
Sun Polish is also made from plant-based matter and is gentle on both the metal and the skin.
All three agents are NSF certified which means they can be used to clean machines involved in producing both food and pharmaceuticals. Plus, the Suhner INOX range is well priced and delivers a very professional result. The comprehensive range is very easy to use, highly effective and cuts down on maintenance.
Suhner Australia
02 9648 5888
www.suhner.com.au