Published 03-09-2020
| Article appears in August 2020 Issue
SUCCESS BUILT ON COLLABORATION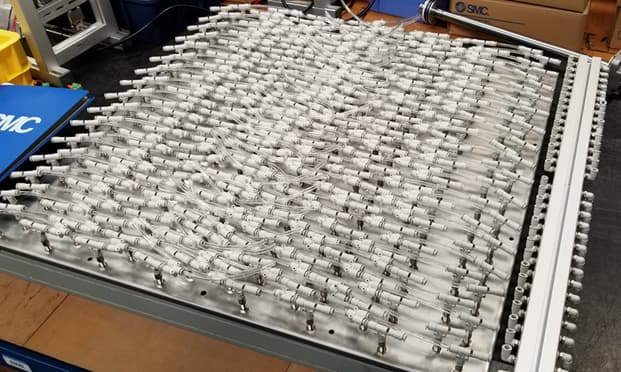 In an industry first, Australian machine builder HMPS has entered into a partnership with SMC Corporation Australia New Zealand to design and custom fit a new pouch unloader cell.
Pouches have enjoyed an increase in popularity in recent years as a flexible packaging option. Using a vacuum system remains the most reliable and trusted solution to ensure pouches are packed correctly.
Designed for an export customer in Thailand for use in unloading pouches of pet food from trays, HMPS and SMC's pouch unloader cell offers high speed on a small footprint. It's the first machine where a robot is retrofitted with a vacuum head for offloading pouches of pet food from a retort.
The brief was a method that was "better, faster and more efficient" than existing methods, a challenge HMPS embraced with relish.
"This customer has an old compressor in their factory and requested a solution that is more energy-efficient in terms of compressed air," says HMPS project engineer Sergio Palacio.
"Compressors can be expensive to replace; our customer wanted to automate their line without causing unnecessary downtime, additional costs or drastic changes to the rest of the plant."
Based on this brief, HMPS looked to the modern vacuum technology produced and supplied by SMC to help curb customer concerns.
The two prominent companies have worked together for years; the perfect relationship to tackle a project that Palacio says required out-of-the-box thinking and close collaboration.
"We chose SMC's vacuum products because of their reduced air consumption while offering continuous vacuum where required," he says.
"We looked to deliver a more efficient and powerful solution with a specially designed and engineered vacuum head."
Jason Sutton, SMC's area sales engineer, says their design departments worked together to deliver an innovative solution.
"From SMC's side, the design was led by our engineering department in New Zealand headed up by Sergey Vetrov, while I oversaw the project on the ground together with the HMPS team."
Combined, the team was proactive, detail oriented and invested in the project.
"This was one of many projects where SMC worked with OEM to develop a special 'fit to purpose' complete solution," Palacio says.
Preliminary proof-of-concept tests with actual pet food products used selected SMC standard vacuum components to determine the best course of action. Early success led to the delivery of a custom solution.
"During the final stage we designed and delivered a bespoke solution with direct interface to the robotic arm as per HMPS's specification," Palacio says.
While the specially engineered vacuum head used in this application is made up of standard SMC vacuum products, this solution has been engineered into a unique multi-functional and energy efficient vacuum design.
"We needed to increase the speed of the application while factoring in energy savings to help reduce pressure on the compressor," Palacio says.
For this specific application, SMC selected the ZH vacuum ejectors and ZP vacuum cups, Sutton says, from its comprehensive vacuum range.
"The pouches are wet with traces of chemicals and as such, we used the ZH series to help take away any water and chemicals while protecting the vacuum system," he says.
The multi bellow pads fitted in SMC's ZP series vacuum cups are designed for quick release and reduced consumption.
"Because there's no chamber, the vacuum response time is immediate, and no air is delivered to a vacuum cup unless it's in use," he says.
"Here, as soon as the air shuts off, atmospheric pressure enters and the multi bellow pads expand like a spring to assist with the easing of pressure and tension, releasing the product immediately."
HMPS made use of SMC's IP65-rated stainless steel products for this application as they could withstand the wet and humid conditions in the factory as well as meet the highest health and safety demands.
Palacio: "Components for this application were specifically selected to withstand caustic acid washdowns."
The results have impressed: the latest machine performs far better than its predecessor and has achieved 28 per cent in energy savings.
It's no secret that in packaging, every millisecond counts.
"Through the unique combination of a new vision system and SMC's vacuum head, the customer is enjoying less waste, faster speeds and a reduced cycle time of 15 per cent," Palacio says.
This robotic cell can, so says Palacio, process 576 products per minute and is able to handle four different pouch sizes and four different gravy contents.
"It's important to note that the gravy affects the shape of the product and the performance of the vacuum head," he says.
"The vacuum cups used for this application adjust to ensure constant suction when required. This same technology can be applied across an array of products in pouches such as soups, rice, biscuits etc."
The customer is extremely happy with the results.
"This new vacuum head will be retrofitted on an additional three machines at this same plant and SMC's special vacuum head will become HMPS's new standard going forward."
Palacio says his team loves projects where they can show the full capability of the SMC products and bring out the real innovation for which they were designed. His team in New Zealand designs and builds complete solutions and offers customised solutions for special applications.