Submissions open for Australian Supply Chain Awards
31-08-2010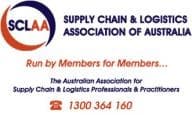 Submissions are now open for the 2012 Australian Supply Chain & Logistics Awards – the industry's longest running national awards program.
The prestigious awards have served the supply chain and logistics industry for more than 50 years.
Winners will be announced at a gala dinner at the Brisbane Convention & Exhibition Centre on November 8.
Award Categories include:
2012 ASCL Future Leaders Award
2012 ASCL Storage & Handling of Materials Award
2012 ASCL Training, Education & Development Award
2012 ASCL Information Management Award
2012 ASCL Manufacturing Logistics Award
2012 ASCL Environmental Excellence Award
2012 ASCL Industry Excellence Award
2012 ASCL Supply Chain Management Award
The 2012 Australian Supply Chain and Logistics Awards are supported by LabourForce, SupplyChain Review, Curtin University, Dematic, Department of Transport and Main Roads, Portland Group, Schenker and Supply Chain Services Australia.
The closing date for submissions is Friday, September 14.
Nomination forms are available from: ascla@sclaa.com.au or www.sclaa.com.au