STYLISH NEW FOOT PROTECTION FROM OLIVER
14-05-2015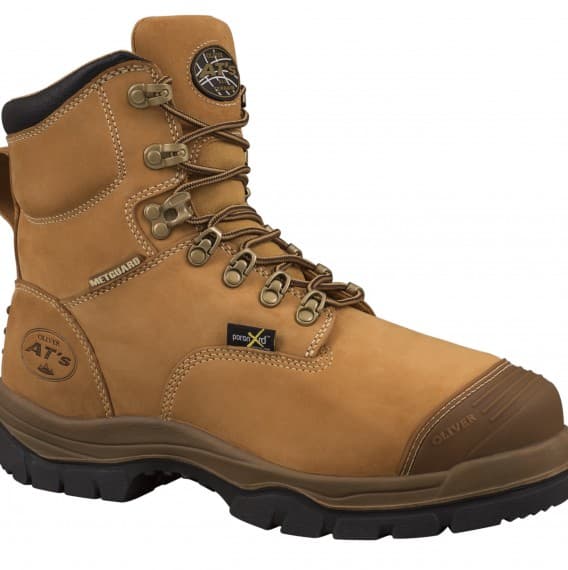 The two major categories of foot injuries in the workplace are those caused by punctures, crushes, sprains, and lacerations, along with those that result from slips, trips, and falls.
Oliver Footwear has released a new (All Terrain) AT 55 Series of safety boots with metatarsal protection that addresses both categories of foot injuries.
The Oliver AT 55-236 Wheat Lace-Up Met Boot has a PORON XRD Extreme Impact Protection metatarsal guard which protects the foot against falling objects.
The high performance molecules of this industry leading material creates a unique protective shield and absorbs up to 90 percent of the most intense force – hit after hit.
While the Qflex Zero non-metallic insole built into the actual sole of the boot reduces the possibility of injury caused by sharp objects that may penetrate and pierce the sole.  
The specially designed outsole tread pattern gives an excellent slip resistant boot certified by a National Association of Testing Authorities (NATA) accredited laboratory with the highest level of certification under Australian Standards.
The sole provides heat resistance of up to 300Ο C of surface contact, is resistant to a variety of oils and acids, and has Electrical (EH) Hazard protection in accordance with industry standards.
The construction of the sole combines a low density polyurethane (PU) midsole for the ultimate in shock absorption with a high density, durable rubber outsole ideal for any workplace.
The new Oliver 55-236 includes all the comfort and protective features offered in the current range of Oliver's AT 55 Series and provides an alternative to the already popular 55-246 Black Lace-Up Met Boot. 
With its quality nubuck leather upper and its sturdy lace-up design, the new Oliver AT 55-236 provides ankle support even in the roughest terrain.
The NATUREform steel toe cap with its wider shape provides comfort and avoids contact between the foot and the toecap. 
There's also a TECtuff toe and heel cap, which protects against scuffing and traditional early failure at these points.
Oliver's proven COMFORTcushion and NANOlite footbed offer constant impact absorption which promotes greater blood flow and enhances circulation in the foot.
The fully lined AT 55-236 boot also comes with heavy Kevlar stitching along all critical seams adding to the durability and comfort of this and other boots in the AT 55 Series.
The Oliver AT 55-236 Wheat Lace-Up Met Boot is fully compliant with AS/NZS 2210.3 as well as international standards EN ISO 203435 and ASTM F2413.
Size choices are from 4-14 and half size increments from 6½ to 12½. 
For more information on this and other Oliver Footwear solutions, contact your regular safety footwear supplier or contact Oliver Footwear direct.
Oliver Footwear
Ph: 03 53 200 200