Stylish and safe women's footwear from Oliver
08-07-2014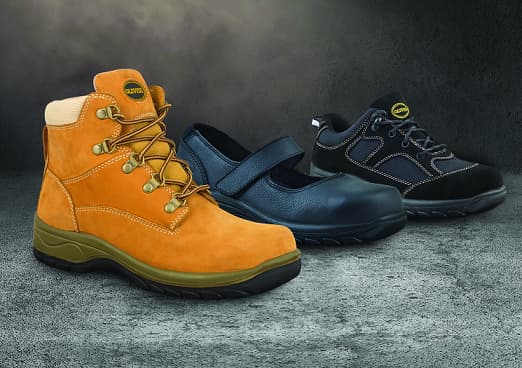 As a long established manufacturer of safety and industrial footwear, Oliver Footwear has created a range of safety and industrial footwear specific to the safety needs of women in the workplace. 
From the resources sector to manufacturing to the services and hospitality sector, the struggle to find comfortable work shoes for women is now finally over. 
Newly released, the Oliver PB 49 Series of women's safety footwear is a triumph of protection, comfort and style. 
The Oliver PB 49 Series offers six different styles including a lace up, slip on, elastic sided, jogger and the stylish cross strap that are bound to be the new benchmarks in the market. 
To create its new Oliver PB 49 Series of safety footwear, Oliver Footwear began by asking its female customers their detailed requirements. 
Then, with a specific designed last, that recognises that women have a different foot profile or shape to men, the new PB 49 Series was created with comfort and safety being paramount. 
So importantly the new PB 49 Series is designed as a woman's fitting with added arch support.
The new range is also comfortable, lightweight, breathable and with underfoot cushioning particularly for the workplaces where there are long hours spent either walking or standing. 
Another important consideration was the need for slip resistance hence the choice of a dual density rubber outsole with a polyurethane midsole. 
The excellent slip resistance not only meets the SRC slip standards but exceeds them. And having an anti-static sole, any build up of electrostatic activity is minimised.
Several comfort features have also been incorporated into the new Series.
Using the proven combination of the COMFORTcushion Impact Absorption System with cellular urethane and PORON to protect the heel and ball of the foot to reduce foot, leg and lower back fatigue, the new PB 49 Series offers a level of unsurpassed comfort for a variety of work conditions.
The fully lined PB 49 Series is infused with AEGIS Microbe Shield solution, which protects against odour, staining and deterioration caused by bacteria and other microorganisms.
The Oliver comfort footbed has perforated air channels to promote natural airflow and is treated with AEGIS Microbe Shield solution to help maintain freshness. 
Safety protection is provided by the NATUREform safety steel toe cap with its wider profile allowing greater comfort against all types of impacts.
The outer sole has superior cut, slip and crack resistance and is also heat resistant to 300ΟC of surface contact. 
The hardwearing rubber outsole resists mineral and organic oils and acids. 
All styles in the PB 49 Series uses water resistant quality leathers and uppers.
Australian and New Zealand Standards (AS/NZS 2210. 3.2009) and their International EN ISO and ASTM equivalents are also fully met.
Importantly, all six styles in the Oliver PB 49 range are available in the metric size range 35-42.
Oliver Footwear
Ph: 03 53 200 200
Please see bellow for website.