STUDENTS TAKE ONE GIANT LEAP IN MARS ROVER CHALLENGE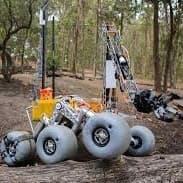 A team of students from Monash University will take one giant leap to the Mars Desert Research Station in Hanksville, Utah to compete in the 2019 University Rover Challenge.
Monash's Nova Rover team will be the sole entry from the southern hemisphere to test its latest design for three days from 30th May, competing against the world's best to build the next generation of space rovers that will one day accompany human explorers to the Red Planet.
The annual competition challenges university students from around the world to build a rover that can perform the same tasks as a multi-billion-dollar Mars rover, for just $25,000. The winning team will present at the convention of the International Mars Society at the University of Southern California in October.
After the most competitive process in the challenge's history, the team won its place among 36 finalists from 10 countries with its improved rover design.
About 20 students will make the 14,000km journey to the centre of Mars research with their revolutionary chassis design and a strong belief that they can outperform the other teams, building on their respectable 14th place out of 96 teams in last year's competition.
The six-wheel chassis design features lightweight beach tyres, allowing the rover to traverse the harshest terrains with ease. The vehicle also includes a three-finger end effector on a robotic arm, an on-board in-situ life detection system and soil acquisition system, and a 3m communications mast with a 5.8GHz main radio and a 900MHz backup.
"Our Mars rovers are basically scientists exploring a new frontier, new terrain, new conditions, and possibly new life, before we send humans to investigate these aspects on the planet," science student and Nova Rover vice-lead Iain Hammond says.
"These rovers can scope areas of future interest and teach us more about the planet and its dangers before we set foot there.
"We also hope that this challenge contributes to a great passion for the study of science, engineering and technology, and boosts support for the creation of new technology and ideas that could deliver incredible breakthroughs and shape the future of humanity."
Over three days of competition, the team will complete tasks in autonomous traversal, extreme retrieval and delivery, and equipment servicing, all tasks a real Mars rover will need to undertake in support of human exploration.
Dr Chao Chen, senior lecturer in Monash's Department of Mechanical and Aerospace Engineering, and Nova Rover supervisor, says the team is passionate and energetic, with each student spending weekdays and weekends in the workshop, and conducting field research to develop, test and refine the system.
Professor Elizabeth Croft, Dean of Monash's Faculty of Engineering, says the team members are already developing the type of technical and entrepreneurial skills needed to drive innovation in Australia's growing space industry, which is estimated to triple in worth to $12 billion and create up to 20,000 jobs by 2030.