STUDENTS CREATE DRONE THAT STICKS TO WALL
16-05-2016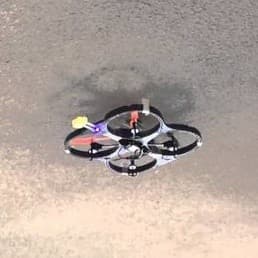 You've heard of fly on the wall, but what about drone on the wall?
In another step in insect like behaviour fro drones, students at the University of Stanford has made a drone that can stick to walls and ceilings.
The drones are able to sit on a vertical surface using a tail to sit on its sides.
Then two groups of opposed microspines, or rough patches, then pull in opposite directions to grip the wall.
The drone can fly directly up and use the microspines to catch hold onto ceilings.
Although it has no problem latching onto rough surfaces, one of the students, Morgan Pope, has noted that there is a lesser efficiency rate when it comes to smooth surfaces.
Since a lot of drones have a limited battery life, the microspines may be able to increase that by allowing the drone to perch somewhere and not waste too much of its energy on flight.
Although still in its early days, with further work, drones could soon be all-terrain vehicles.