Strong support for anti-dumping review
31-08-2010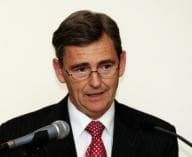 John Brumby … new agency
Unions and business groups have supported recommendations contained in the recent anti-dumping review conducted by former Victorian premier John Brumby.
The review calls on the federal government to devote more resources to combating trade dumping.
Dumping occurs when goods are exported to Australia at a price below the cost in the country of export, impacting on local industry.
The Brumby report recommends the establishment of a new dedicated anti-dumping agency to deal with the growing number of alleged cases. It also calls for an immediate increase in resources to establish the new agency.
The new anti-dumping agency would be based in Melbourne and report to the federal Attorney-General.
"It needs to have a higher profile and more independence than current arrangements," Mr Brumby said.
The Australian Workers' Union National Secretary Paul Howes said the new anti-dumping agency would be a major step forward, potentially saving thousands of local jobs.
"Tougher measures against illegal trade dumping is what real border protection is about. This is about ensuring Australian businesses and Australian jobs are not undermined by unfair trade practices," Mr Howes said.
The Construction, Forestry, Mining and Energy Union, while supporting the report, has urged the government to set up an anti-dumping agency as a matter of urgency.
Australian Industry Group Chief Executive Innes Willox said the Brumby report was a step in the right direction.
"There have been loud and long standing industry complaints about the speed, complexity, transparency and resourcing of our anti-dumping regime," he said.
"This report's recommendations will potentially make it easier to resolve claims more quickly and at lower cost and would hopefully restore confidence in the system to the benefit of all involved."
Opposition industry spokeswoman Sophie Mirabella said the review endorsed coalition policy.