STRONG RESULTS FROM NMW 2014
10-06-2014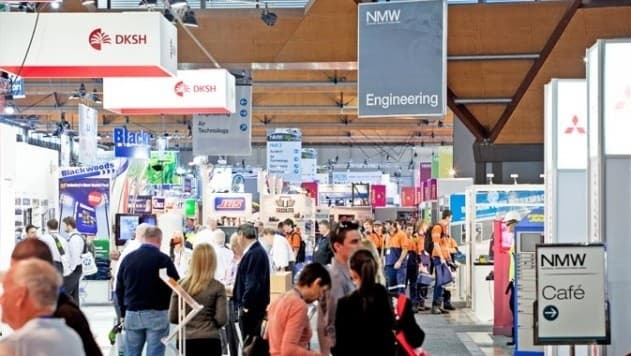 This year's National Manufacturing Week (NMW) in Sydney in May delivered solid outcomes for participants.
More than 300 exhibiting companies made new links within Australia's fast-changing manufacturing industry following another successful show.
Preliminary figures reveal that about 6,300 trade visitors attended NMW 2014, taking advantage of a host of new features to build very strong links with industry suppliers.
A notable feature of NMW's visitor base was the high quality of visitors.  
More than 40 percent of visitors were executives with purchasing power – representing an increased ratio of decision-makers in the visitor mix.
This included engineers and Directors/CEOs/GMs/Owners and equivalent from Government, Defence, the resources sector and other large-budget organisations through to innovative smaller businesses seeking out high-value new technologies.
Also notable was the success of new programs designed to spark closer interaction between exhibitors and visitors.
The popular NMW Solutions Theatres provided a rolling program of discussions on strategies for boosting innovation, productivity and speed to market.
The presentations – from 35 experts across four different hubs on the exhibition floor – offered new ideas and interaction with exhibitors.
NMW also saw the introduction of One-to-One Meetings, which gave exhibitors and potential buyers the opportunity to be paired for focused discussions. Some 60 meetings were held, resulting in solid leads for exhibitors including Russell Brinkworth from Leussink Engineering.
"I had opportunities for several meetings - and one, in particular, was just outstanding.  I was able to meet with the GM of Production of a company that has 12 welding bays, and who commented that our gear solved all his problems with fixture changes. He's someone who might not have stumbled across Leussink without the meetings service - and for our company, he's a great new lead," said Brinkworth.
A major Networking Event at the end of Day 1 on May 13, plus two Speed Networking sessions in the Solutions Theatres – brought dozens of participants face-to-face, resulting in some stellar connections. Among contacts made were with buyers from a major Defence organisation, visiting NMW to scope new ideas and suppliers.
NMW 2014 also introduced a Passport Competition, with visitors collecting details from 10 nominated exhibitors.
This meant they could enter a draw to win a trip for two to Fiji.
Competition winner Harry Pannekoek of WA-based company Swivelpole (makers of high-safety lighting) noted that he had flown in with four of the company's directors and spent several days researching new ideas at this year's event.
NMW Exhibition Director, Anthony Reed said NMW had once again helped create real opportunities for participants.
"It is always fantastic to see people from so many different industry sectors making new connections and talking about new ideas. There was a real buzz across NMW 2014 – which I am sure will translate into real opportunities in the weeks and months ahead," Reed said.
NMW 2015 will be held in Melbourne from May 26-29, co-located with Austech and the SMART Supply Chain & Logistics Conference & Expo.
For more information or to participate in NMW 2015, contact guy.freebody@reedexhibitions.com.au or visit www.nationalmanufacturingweek.com.au.