Stretch your dollars further with Optimum
31-08-2010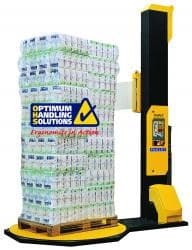 Big savings … Optimum Handling Solutions Siat stretch wrapper
Optimum Handling Solutions Siat stretch wrappers can deliver massive film savings and an increased load out rate when utilized to their maximum working capacity.
With the Siat stretch wrapper manufacturers and processing plants can dispatch finished goods safely and efficiently – and measure real cost benefits. 
With a load out rate of up to 20 pallets per hour, wrapping is a breeze with Optimum equipment.
Premium models feature an auto film attach and cut feature.
Whether your warehouse handles 10 pallets per day or 110 pallets, Optimum Handling Solutions stretch wrappers can save you time and money.
Optimum Handling Solutions
Ph: 1800 066 008