Streamlined biscuit wrapping solution for Caribbean Cream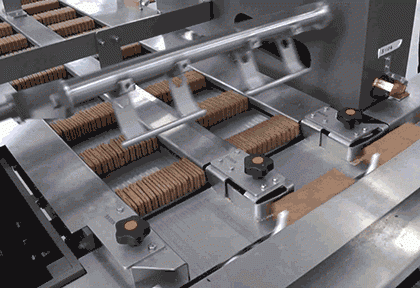 The Bradman Lake Group (BLG) of Suffolk, UK , a major supplier of packaging technology to the food, consumer and healthcare industry sectors worldwide, have recently worked with Devon Biscuit in the West Indies to streamline their biscuit packaging process.
Their famous range of coconut and chocolate bourbon cream sandwich biscuits were being wrapped on an old intermittent motion, die fold end wrapping machine.
They were wrapped in slugs of biscuits stacked on edge and the process was slow and involved the use of three machines, which resulted in high levels of scrap product and packaging film.
Bradman Lake supplied them with a Flowtronic FT130 continuous motion biscuits-on-edge flow wrapping machine.
This allowed for a new packaging design that re-vamped the product appearance, allowing for a pillow style flowpack that uses transverse heat seals incorporating gusset tucked ends.
The machine was designed to fit within the limited floor space of the plant and provided the company with higher wrapping speeds of up to 90 packs per minute, high production efficiencies and a reduction in wastage.
The FT130 wrapper infeed was connected to a specially designed continuous motion, servo driven, dual lane, manually loaded cross feed conveyor.
This layout allowed up to four operators at each corner to easily load slugs of the biscuits from the biscuit production line.
The machine has other features such as:-
'no product, no pack' which minimised wastage of empty wraps
'no gap, no seal' crimp which minimises stoppages
Once product collation is in process, the product is not released until the final sealing which minimises jamming on the machine.
Bradman Lake is represented in Oceania by HBM Packaging Technologies.