Streamline your business with 80/20
31-08-2010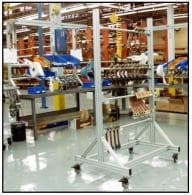 Sydney-based 80/20 Australia specialises in T-Slot aluminium extrusion, offering an endless list of applications.
Each application can be innovatively tailored to any industry, including "out of the box" solutions limited only by your imagination and creativity. 
80/20 Australia provides lightweight, strong and durable material handling options that are easy to clean and therefore require very little maintenance in the future. 
T-slotted aluminium extrusion materials can be assembled easily accessible hand tools. 
A variety of accessories are available to further improve efficiency. These can be adapted over time as its applications grow. 
80/20 material handling solutions are designed to match the workplace aesthetic, conserve space and be easily adaptable to your business. 
A custom designed workplace can streamline your operation and improve productivity.
80/20 Australia
Ph: (02) 9838 9900