STRATEGIC PARTNERSHIP AGREEMENT FOR SA SOLAR PROJECT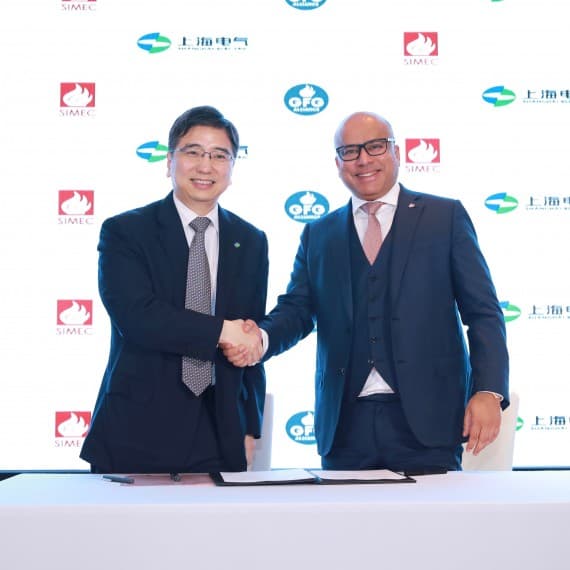 Huang Ou, Shanghai Electric and Sanjeev Gupta, GFC Alliance
Simec Energy Australia, a member of the GFG Alliance, has signed a key strategic partnership with Shanghai Electric for engineering, procurement and construction for its Cultana solar farm project near Whyalla, South Australia. The agreement was signed by GFG Alliance Executive Chairman and CEO Sanjeev Gupta and Shanghai Electric President Huang Ou, in the presence of representatives from key supporting financial institutions.
Cultana is the first project in Simec's $1 billion, 1GW dispatchable renewable energy program in South Australia. With a capacity of 280MW, Cultana is planned to be one of Australia's largest solar farms and is expected to produce around 600GWh of energy per year, powering GFG's Whyalla steelworks and a range of key government and commercial customers.
It will deliver a range of benefits to the local community, increasing the reliability and security of the state's electricity supply, boosting local employment with about 350 positions during construction, and providing environmental benefits.
"Cultana Solar Farm is an ambitious project that will deliver globally‐competitive renewable energy on a large scale to power‐heavy industry," Gupta says. "It is a great step forward in our vision to revitalise industry and we look forward to working with our partners to bring our renewables projects to life."
GFG previously announced its ambition to invest in up to 10GW of large‐scale solar and other renewable energy projects across Australia, supporting industry.
Shanghai Electric, whose global expertise includes the completion of the world's largest concentrated solar power project in Dubai, will provide engineering, procurement and construction for the project.
"We are fortunate and grateful to have the global expertise of Shanghai Electric," Gupta says. "Shanghai Electric have embodied the best form of partnership, working hand in glove with our people in Whyalla to develop the project. We are confident of their performance, to deliver this project on time, and on budget, to the highest standards, supporting our commitment to the creation of hundreds of new local jobs in South Australia."
The project will play a key role in the development of the 10Mt/year Whyalla Next‐Gen steel plant project and industry revitalisation strategy championed by GFG.
"Our planned Next‐Gen project will ignite a new industrial revolution in Australia," Gupta says. "These projects are shining examples of GFG's commitment to create a sustainable future for industry and build stronger local communities."
Simec Energy Australia
0411 054 643

simecenergy.com.au