Stratasys changes the face of manufacturing: Welcome to the creative world of 3D printing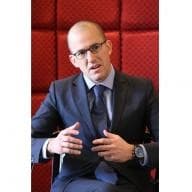 Late last year two giants in 3D printing, Stratasys Inc and Objet Ltd, merged to change the global 3D printing landscape.
Stratasys now boasts a massive portfolio of 3D printing and direct digital manufacturing solutions for the Asia-Pacific region.
In this exclusive interview with Industry Update, Jonathan Jaglom, Stratasys General Manager of Asia Pacific and Japan, discusses the benefits of 3D printing and explains why Australian manufacturers should embrace this revolutionary technology …
Jonathan Jaglom's overwhelming passion for three-dimensional (3D) printing is infectious.
"I fell in love with the product from the first time I saw it, says Jaglom, the driving force behind Stratasys in the Asia-Pacific region.
"I was very impressed, he says. "What is beautiful about 3D printing is that you don't have to be an engineer to understand the value it brings.
"Even someone like my mother, who isn't an engineer, can appreciate and understand what we do."
Jaglom, who is based in Hong Kong, says it's vital for management and staff of any company to appreciate the product they represent.
"I do believe we are blessed because we have something very exciting in our hands, he says. "I'm still very passionate about what I do. It is very exciting to be part of this company.
"It may sound silly, but I often run to work. I can't wait to get here."
Jaglom, who started his career at Objet in 2005 as the Regional Manager of East Europe, said it soon became evident the value that 3D printing could bring to any organization.
"From a logical point of view it makes a lot of sense to have a 3D printer."
Jaglom says a 3D printer gives manufacturers the ability to print and use parts as well as the ability to print durable jigs and fixtures.
"This is a very rapidly growing space," he says.
In manufacturing, a 3D printer is ideal for any business that produces tools.
With 3D technology, manufacturing tools can be rapidly designed, manufactured and deployed.
And firms like Stratasys now provide a total solution.
"One of the company's biggest challenges is educating manufacturers on how 3D printing can add value to their business," says Jaglom.
But the word is now spreading fast.
US President Barack Obama helped to dramatically raise the level of global awareness when he delivered his State of the Union address earlier this year.
Obama told the world: "3D printing has the potential to revolutionise the way we make almost everything."
"So slowly people are becoming more familiar with what 3D printing can provide, Jaglom says. "They are also becoming more familiar on why it is useful."
Stratasys continues to grow at a frantic pace.
The company recently signed a merger agreement with Makerbot, a global leader in desktop 3D printing.
MakerBot helped develop the desktop 3D printing market and the merger with a subsidiary of Stratasys is expected to drive faster adoption of 3D printing for multiple applications and industries.
When Jaglom first joined Objet in 2005 the company had about 73 employees. Today it employs more than 1,100.
"That is massive growth," he says. "And we are continuing to grow at an extremely fast pace."
Jaglom says the company's biggest challenge is to continually change and adapt to rapidly changing business environments.
3D printing has come a long way since its launch some 30 years ago.
"In recent years there has been a complete switch in the ease of use, says Jaglom.
"Previously you needed an engineering degree to develop a CAD drawing.
"Today that has changed.
"You still need a degree to design a product, but now you can get software that allows ordinary people to manipulate that file and transform it in any way they please."
Jaglom says companies based in the Asia-Pacific region, including Australia, will reap the benefits of the Stratasys-Object merger.
"Stratasys now offers a very wide range of solutions that did not exist prior to the merge. We now have more resources in the Asia-Pacific region to serve customers."
The end result will be improved customer service and more effective company training.
While Asia is its fastest growing region, Stratasys is keen to grow its presence in Australia.
Tasman and Objective 3D are now the main distributors for Stratasys products in Australia.
Stratasys has its sights firmly set on the manufacturing and mining industries in Australia.
And future growth is expected to come from the aerospace, medical and education sectors.
"Basically, if you design products, you should have a 3D printer," says Jaglom.
The technology can deliver manufacturers "speed, creativity and confidentiality."
"This means a manufacturer can get a new product to market much faster and more cost effectively than ever before.
"Flaws can be detected at an early stage, so the cost of error is significantly reduced.
"And 3D printing gives manufacturers scope to be far more creative.
"It also means confidentiality as designs and test models remain in-house, with no need to work with an external supplier.
"This technology can give manufacturers a tremendous competitive advantage."
Jaglom says "forward thinking" companies have been quick to embrace the new technology.
"The more innovative a company is, the more likely they are to use a 3D printer."