STRAPPED FOR CASH? GO SEMI-AUTOMATIC
19-10-2017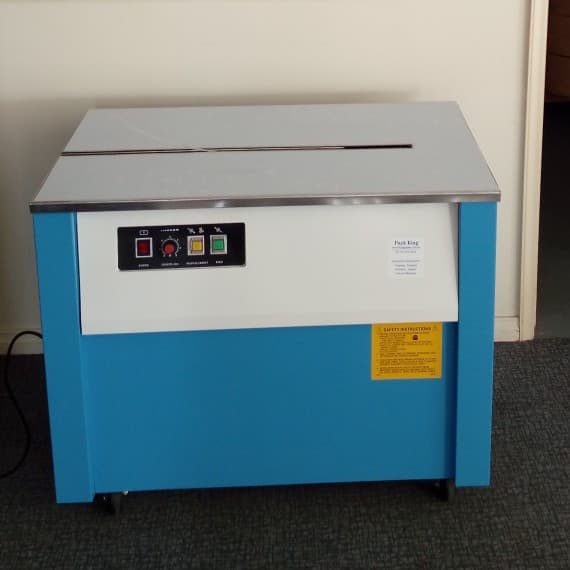 Following its popular policy of identifying a product that many people want, tracking down the best manufacturer, testing the product fully, and then buying in bulk to offer the best deal to buyers in that space, Pack King is now offering the Model SSA-301 Semi Auto Strapping Machine.
It's fair to say that many businesses would benefit from strapping their products, be they in bundles, large or small cartons etc. However, the cost of a strapping machine can easily be a deterrent.
King has a warehouse full of Model SSA-301 Semi Auto Strapping Machines, each fitted with a 3000m roll of 12mm strap with 1.35kN breaking strain. Each machine is fully tested, placed on a pallet, then packed with a protective cloth and a sturdy cardboard outer (strapped of course).
The Model SSA-301 is fully enclosed, so there are no moving parts to worry about. Both the two end doors and the lid are interlocked, so the machine will stop if any door is open.
It has fitted castors with brakes, and a six-month repair or replacement guarantee.
A single three-phase motor drives the whole unit, an Aussie plug and lead are fitted, and it comes complete with a tool kit and comprehensive well written operator guide showing how to load strapping, spare parts, adjustments etc.
Unlike more expensive machines, the Model SSA-301 does not have an arch. On the plus side, this means there is no vertical constraint on the size of products that can be strapped. If it can fit on the tabletop it can be strapped.
The Model SSA-301 Semi Auto Strapping Machine is available now from Pack King for $1300 plus GST and freight ex Bayswater. Additional strap is available for $60.00 plus GST and freight.
Pack King
03 9720 0425
www.packking.com.au