STORAGE RANGE GETS HEAVY-DUTY HYDRAULIC HOSES IN ORDER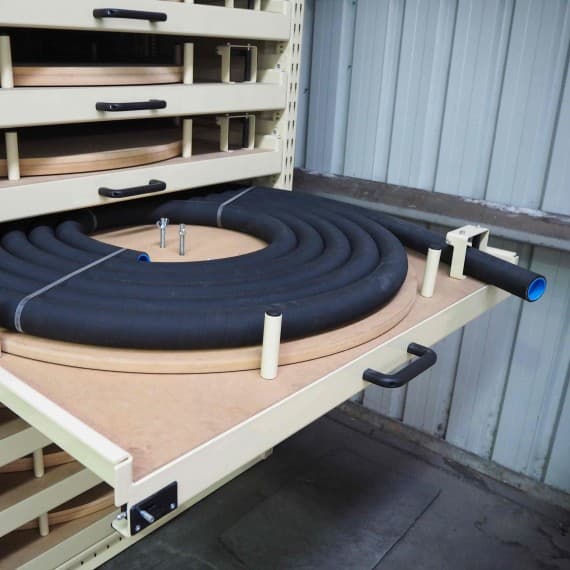 Storage specialist BAC Systems has developed a novel range of solutions for storing large hydraulic hose coils.
Caterpillar dealer William Adams is a leading supplier of heavy construction machinery and equipment across Victoria and Tasmania. With 15 locations across the region the company maintains a massive fleet of Caterpillar vehicles.
William Adams recently enlisted the help of BAC Systems to provide a storage solution for its inventory of heavy-duty hydraulic hoses.
The hose shop at the William Adams Clayton facility stores 165 different types of hose with nominal bores from 0.25 to 2in.
The new hose shop has been designed to house 44 of these hose types in a ready-to-use storage solution that both keeps the hoses in order and allows easy access. The objective for the William Adams team is to have each hose ready to use within one hour.
BAC Systems has created different solutions for each different element of the hose shop.
For smaller bore hoses on reels and drums, the BAC solution is a large drawer fitted with rollers that allow a user to draw the hose off the reel, cutting off what is needed.
For hoses with a medium-sized bore, supplied in a loose bundle, a turntable with clamping plates top and bottom is used to wind these hoses up, and then to allow them to be unwound so that the required length of hose can be cut off.
Both these unique drawers save time and keep hoses in easy reach.
For larger high-tension hoses that need to be stored in a tied-up bundle, BAC has developed a shelving system that allows these hoses to be stored standing up on the edge of the bundle in a trough-shaped shelf that prevents them from rolling away.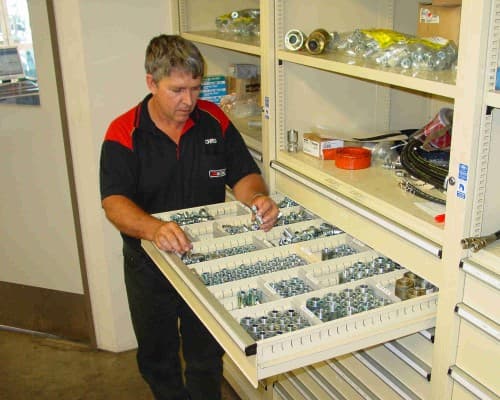 BAC can also supply high-density drawers to store all the hydraulic fittings in the smallest footprint possible, as well as heavy-duty shelving with shelf separators to create storage zones for completed hose jobs.
With all these solutions, BAC Systems reckons it can get any hose shop organised and running faster than ever.
BAC Systems
02 9832 2777
www.bacsystems.com.au