For storage and racking solutions it's BAC Systems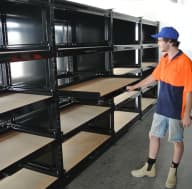 BAC's latest release the 77 Series Racking and Shelving System will be on show at NMW 2014 in Sydney from May 13-16.
Designed with safety in mind, the "77 Series" offers a hybrid storage solution for the smallest parts stores to the largest warehouses.
It encompasses storage methods for the smallest widgets right up to palletised storage. With so many unique solutions in the single system, the BAC 77 Series is the future of storage and warehousing.
BAC Systems will also be displaying its signature Drawer Storage System, adjudged by Standards Australia to be the Benchmark for such systems in Australia.
This system is the optimal solution for warehouse compression, requiring significantly less floor space than shelving for small-to-medium components, and not being prone to the technical faults and downtime of comparable electro-mechanic alternatives. Always reliable, BAC Workbenches will also be showcased this year.
A favourite in Australian workshops, a BAC Workbench can be configured with modular drawer storage, shelving, and a wide range of additional options to increase productivity.
Bac Systems' technical sales team will be available to assist with the layout design of  your site.
Visit Stand (1213) at the Sydney Showground or the website to arrange a complimentary site survey.