STOCKING UP TO BEAT HYDRAULIC HOSE SHORTAGES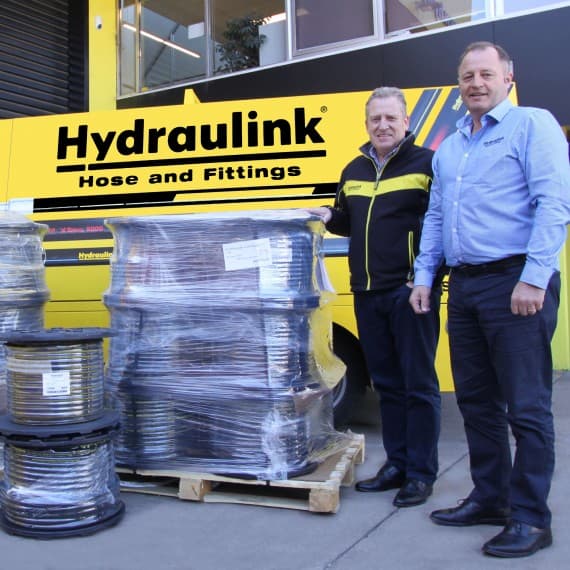 Hydraulink Australia MD Denis Matulin and NSW Manager Mark Andrews with some of the new hydraulic hose stock
Hydraulink is continuing to invest in its inventory of hoses, fittings, adapters and accessories to ensure customers throughout the Asia-Pacific region are not impacted by a global shortage of hydraulic hose manufacturing capacity.
The company's NSW State Manager Mark Andrews says a significant amount of quality Hydraulink branded product has been added to the local inventory to provide certainty of supply to major industry customers.
"Many thousands of individual stock items were added to inventory throughout the region in recent months, because a shortage of standard and custom hydraulic hose and fitting components can bring even the largest and most sophisticated machinery to a total standstill," he said.
"Hydraulink has a reputation for always having product availability with quick turnaround times. This reduces delays in maintenance that can compromise safety and cause costly downtime. So we have acted, as an industry leader, to anticipate the needs of the market by carrying strong inventory levels across Asia-Pacific while the problem of inadequate hydraulic hose manufacturing capacity continues to persist, as it has for more than nine months now."
"As industries start to pick up – which we are particularly seeing with global OEM, mining, civil infrastructure, recycling and waste management companies at the moment – demand for hydraulic hoses and fittings increases, and a larger supply is needed," said Andrews.
"If you look at companies like Caterpillar – one of the biggest OEMs in the world – they've seen steady growth for over a year now, and that's taking up manufacturing capacity for hydraulic hose stock."
"As one of Australasia's largest hydraulic hose and fittings service organisations, with thousands of customers extending from cities to the outback, we are depended upon to have inventory on hand 24/7 to meet needs for rapid hose repair in situations ranging from emergency breakdowns through to customised hose fittings for OEMs or onsite hydraulic hose service in remote and large-scale projects," Andrews concluded.
Hydraulink
1300 36 37 34
www.hydraulink.com.au