Stockcap extends tube insert range
31-08-2010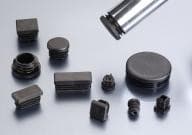 Stockcap has added more sizes to its Tube Insert range to suit a wide variety of applications. 
The range now includes Round sizes from 13mm up to 100mm, Square sizes from 13mm to 150mm and Rectangular sizes starting at 30x15mm up to 150x50mm, including the popular 65x16mm. 
Stockcap Tube Inserts can be used for wall thicknesses from 0.5mm up to 8mm.
Manufactured from LDPE and available from stock in black, Stockcap Tube inserts come in convenient packs of 10, 50, 100, 500 & 1,000 depending on the size required. 
All sizes push-in easily and provide a professional finish to the job. 
Contact Stockcap through distributers Sinclair & Rush for free samples and a quotation.
Sinclair & Rush Pty Limited
Ph: 1800 00 3211