Step safely with new colored stair treads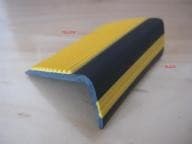 Safe option … Floorsafe stair treads
Floorsafe International is a leader in safety products for the work environment.
Floorsafe can source and find suitable, cost effective solutions for a variety of issues – and implement them quickly and efficiently.
Manufacturers, builders, contractors and architects choose Floorsafe International products for quality, reliability and affordability.
A common safety problem for many workplaces is smooth and wet stairways that become slippery and dangerous. 
Edges of steps that are not highlighted increase the accident rate twofold.
A fall from stairs can be life threatening. Floorsafe International now offers an anti-slip rubber stair nosing to combat this problem. 
Unlike most stair tread products both the top and face surfaces have been highlighted with a stand out colour. 
Floorsafe stair treads are available in black with safety yellow, black with grey, black with green or plain black. The product comes in 2.2m lengths or can be cut to the required size.
Floorsafe safety products such as the stair tread can help prevent work related slip and fall accidents. 
Avoiding accidents will also reduce the chance of workers damage-compensation claims and lead to lower insurance premiums. 
And latest research shows that having safer walk surfaces will lead to higher productivity.
Protecting your staff, employees and customers is a must.
You will not only save money, but you will create a safe and happy work environment.
Floorsafe International
Ph: 1300 717 769